Category: Written Articles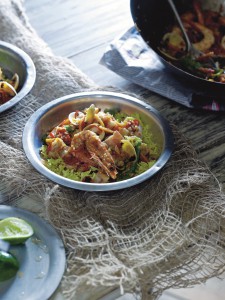 So here it is! Casa Luna's signature dish, which was inspired by – you guessed it – a trip to
Spain. I devoured paella nearly every day when I visited in 1991, and in Madrid in the
midst of probably my tenth version, I had an epiphany, or rather one of those 'what's all
the fuss about this dish' moments, and realised I could create a superb Balinese paella
adding a little mystique of the spice islands.
Our paella is an elegant celebration of seafood as well as a meeting of Bali and the
Mediterranean – the flash of the flamenco is introduced to the shimmer of the legong,
Bali's famous traditional dance.… Read More

Posted on April 15th, by janet in
Food
,
Recipes
.
Comments Off on RECIPE OF THE WEEK: Braised Pork with Kecap Manis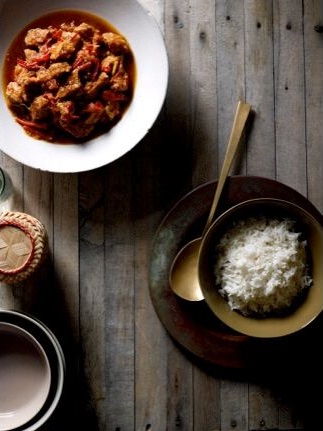 This is a Chinese-influenced dish, and the giveaway is the use of kecap manis, the local version of Chinese soy sauce that is thick, sweet and subtly spiced. Kecap manis became prominent on Balinese market shelves in the 1960s and 70s and has remained a favourite ever since. (In fact, all seasonings in bottles are not traditionally Balinese, and some old folk won't eat these modern flavourings because they don't like them.)
Today babi kecap is often prepared for major ceremonies such as Galungan, when pork is on the menu partly because it keeps well and can be eaten by families over two days. My sons love it and tend to always overload their plates, resulting in tummy aches the next day.… Read More

25 Nov-3 Dec
Early Bird Ends 31 Aug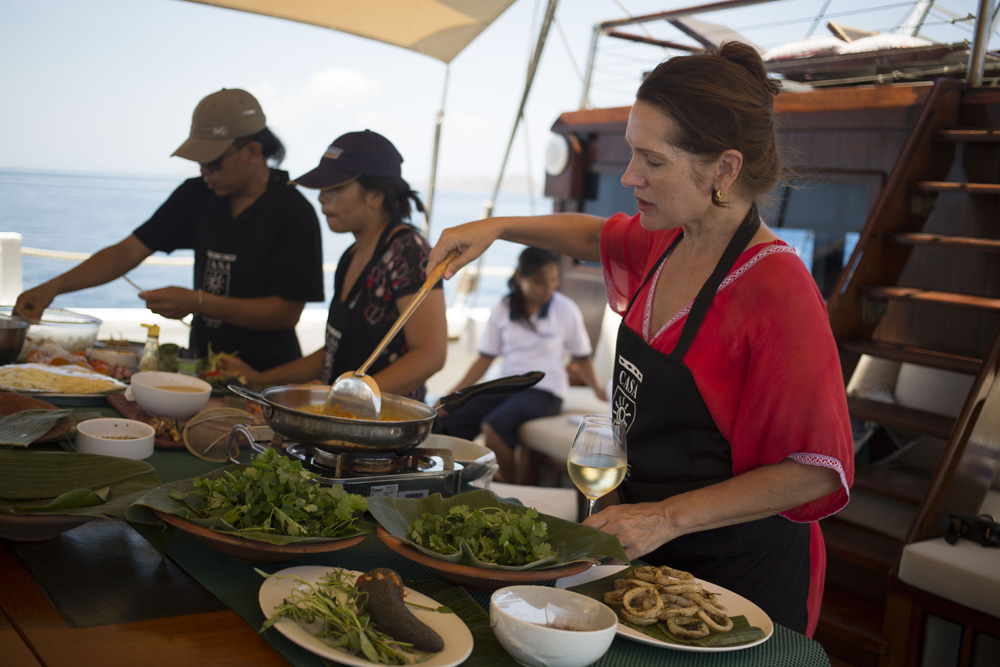 It's the year of the humble nutmeg and the Banda Islands. Join me on a cruise to the legendary spice islands and the island of Banda Neira and Run, inhaling history that changed the world, in between glorious Indonesian meals, trekking, snorkelling, swimming, and simply relaxing on pristine waters. Early bird special prices of AUD 3,900 ends 30 Aug. Deposit required. Contact pa@janetdeneefe.com for more information.

Posted on March 15th, by janet in
Food
,
Recipes
.
Comments Off on RECIPE OF THE WEEK: Black Rice Risotto with Salmon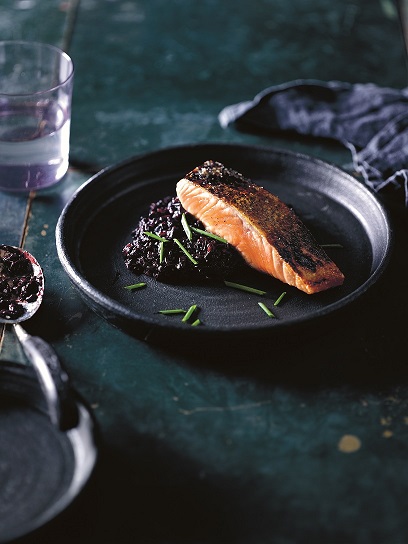 1 cup glutinous black rice, soaked overnight
3 tablespoons regular white rice, soaked for 1 hour
600 ml water
4 x 150 g Salmon fillets, skin on
Sea Salt
5 tablespoons butter
4 medium leeks, finely sliced
3 tablespoons seeded mustard
2 tablespoons lime juice
4 Kaffer lime leaves
500 ml chicken stock
Freshly ground black pepper
Vegetable oil
2 tablespoons cream
1 teaspoons greated palm sugar
2 tablespoons fried shallots
Chopped chives, to garnish
Strain the black rice and white rice and combine in a heavy-based saucepan. Add the water and bring the boil. Cook uncovered for 30 minutes, or until the black rice is a soft al dente and the water is absorbed or evaporated (you can add more water if the rice dries out before it is cooked)
Pat the salmon fillets dry.… Read More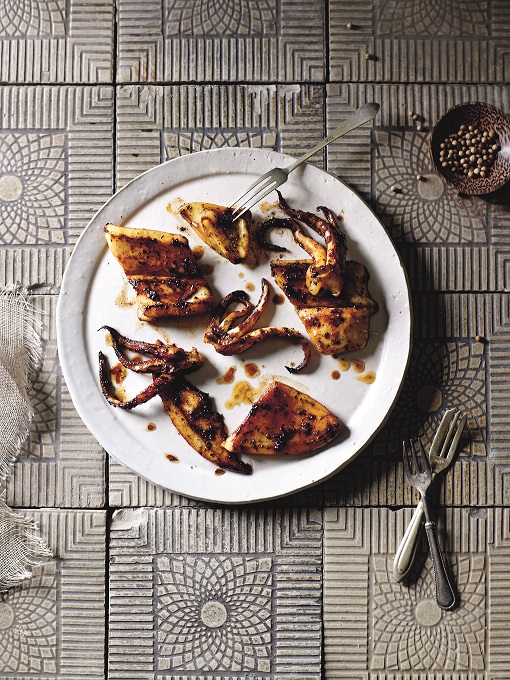 This is one of the many barbecued dishes that are served by the sea at Jimbaran. In what
was formally a rustic coastal eating place dotted with simple grass huts, there are now
hundreds of bamboo tables and chairs perched on the sand, and tonnes of seafood being
served, from prawns to lobster and snapper to squid, for eager tourists. The secret at
Jimbaran is cooking the seafood over coconut husks for a delectable smokiness, and the
moist heat of the husks creates tender meat with glazed and burnished skin without
dryness. If you are flying into Denpasar at night, the smoke from the barbecues at
Jimbaran bay looks like an enormous bushfire.… Read More

Posted on January 23rd, by janet in
Recipes
.
Comments Off on RECIPE OF THE WEEK: Gado Gado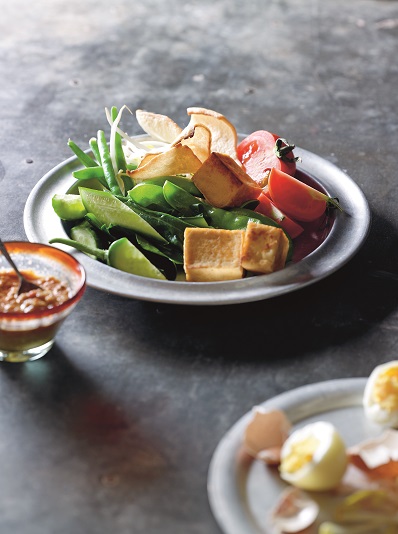 Another Indonesian dish that varies from island to island. In Bali, Gado-Gado or jukut mesantok, as it is known in Bali, consist of spinach, bean sprouts, snack beans, tofu and rice cake. It is served in small warungs or sold by street vendors, who mix the sauce to order using a large mortar and pestle. It is then tossed with the vegetables and served in a banana leaf. In Java, Gado-Gado is served with a wider variety of vegetables, often including potato and cabbage. Therefore, the choice is yours.
Allow 200 grams of vegetables per person…..
Bean sprouts, spinach, beans, potato, broccoli, cauliflower
Cabbage, carrot, snow peas, cucumber, tomato wedges
Fried tempe or tofu, hard-boiled egg
Peanut sauce
Quartered or finely sliced krupuk udang (prawn crackers) or krupuk emping
Prepare the vegetables by boiling, steaming, and so forth.Slice  into bite-sized pieces or any manner you prefer and arrange on a platter, either in layers or mixed.… Read More

Never before has the word "organic" been more powerful in Ubud. Now a raw, vegan, fresh food destination, Ubud is spearheading the global "green" phenomena with world-class establishments dishing up their own versions of all that is healthy, chemical-free and locally grown.
Bali Buda has been serving vegetarian food for as long as I remember and have been a force behind the island-wide organic movement. They have so many tasty favourites, a range of gluten-free, raw cakes, breads and a health-food store alongside. If you are seeking anything organic, this is where you will find it.
Established in 2011, Alchemy is one of Bali's first raw, vegan cafés. Salads bowls are the mainstay and are piled high in generous mountains of goodness alongside other hearty raw fare and smoothies in every colour.… Read More

I am in a taxi driving through the back streets of Jogjakarta past candy-coloured houses, warungs fringed with sunsilk satchets flapping in the sun, free-range goats grazing on dirt, grandpas chatting on rickety bamboo chairs, head-scarfed school girls and rice-fields.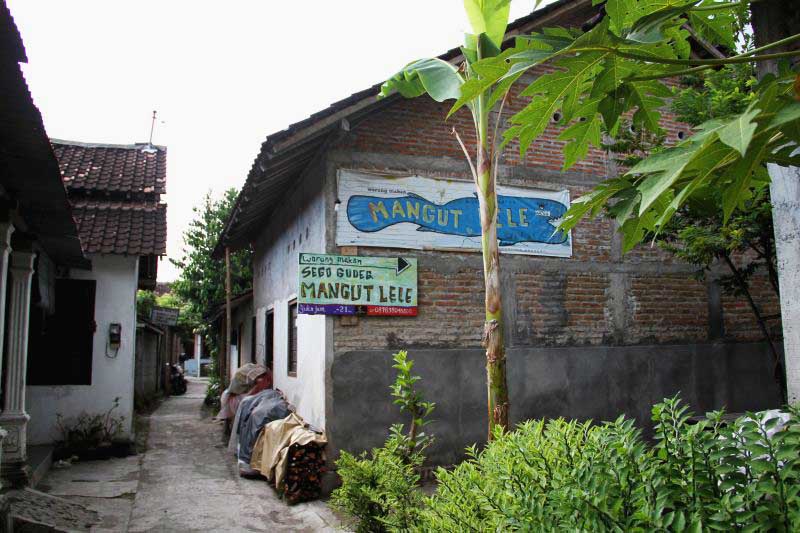 … Read More

Martabak Telor is a supremely delicious snack of Arab-Indian origins. Think paper-thin pastry meets omelette and there you have martabak telor.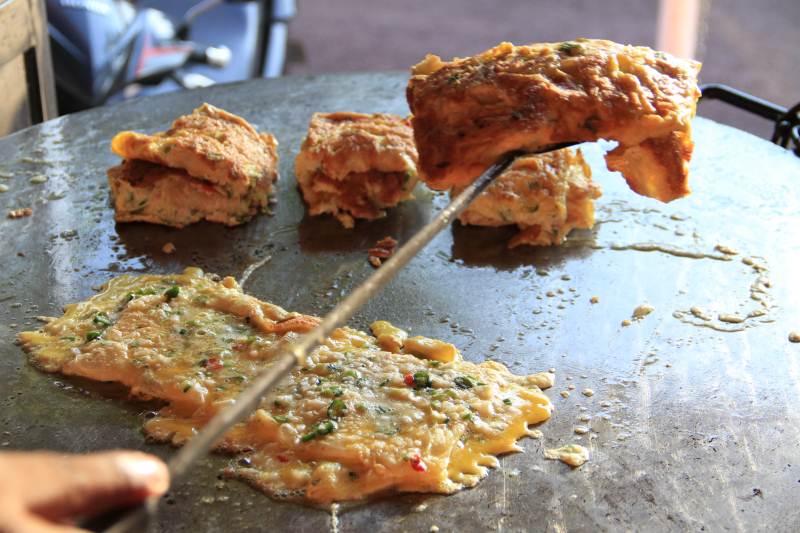 … Read More

Back on board Katherina, Sea Treks's elegant Phinisi boat, cruising the Komodo Islands for 6 days after the Ubud Writers & Readers Festival. Hard to believe!… Read More
---