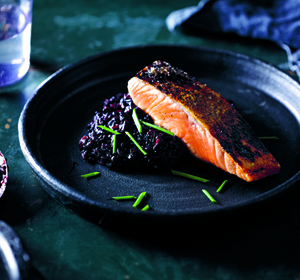 06 Jan

Black-rice risotto with Salmon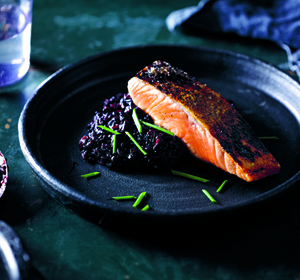 This is a totally unorthodox but delicious and interesting way of serving black rice. In Bali, black rice is normally eaten as a sweet snack in the morning or afternoon, but, in this case I have matched the nutty chewiness of the rice with the full-bodied flavour of salmon – the salmon gloriously coral against the midnight black of the grain. (In fact, I have mixed the black rice with a little white rice as we do with rice pudding, to create a more complex and interesting flavour and texture.) Beyond visuals, there is the added bonus of omega-3 oils in the salmon and vital minerals in the black rice. Serves 4.
1 cup steamed black rice
3 tablespoons steamed white rice
600ml water
4 x 150 g salmon fillet, skin on
sea salt
5 tablespoons butter
4 medium leeks, finely sliced
3 tablespoons seeded mustard
2 tablespoons lime juice
4 kaffir lime leaves
500 ml chicken stock
white pepper
oil for frying salmon
1 tablespoon butter
2 tablespoons cream
1 teaspoon grated coconut sugar
2 tablespoons fried shallots
chopped chives, to garnish
Pat the salmon fillets dry. Pour a layer of salt onto a plate and press the skin side of the fillets onto it. Set aside for up to one hour. The salt will dry the skin out a little and will be wiped off before cooking. Set aside while you make the risotto.
Heat a wok or saucepan over low heat and add the butter. Once it has melted, throw in the leek and fry for one minute, or until wilted. Add the rice, mustard, lime juice, lime leaves and chicken stock. Simmer for 25 minutes or until the rice is soft and the stock is absorbed.
Towards the end of the cooking time, heat a frying pan over medium heat. Rub the salt vigorously off the skin of the salmon and pat dry. Season the skin with pepper and the flesh with salt and pepper. Heat a thin layer of oil in the pan with the tablespoon of butter over medium heat and add the salmon skin-side down. Weight them down gently with a small plate or with your frying utensil, pressing the skin against the base of the pan. Cook for up to 3-5 minutes until you can see the flesh is cooked barely half-cooked. The flip the salmon over and turn off the heat, allowing the fish to cook slowly for another 30 seconds or so. (If you prefer well-cooked salmon let it cook longer on a low flame). Remove from the heat and set aside.
Finish the risotto by stirring in the cream, coconut sugar, salt and pepper to taste and fried shallots.
Serve the crisp-skinned salmon on top of the risotto and scatter with chives.