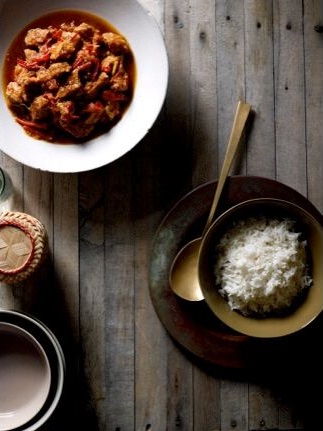 15 Apr

RECIPE OF THE WEEK: Braised Pork with Kecap Manis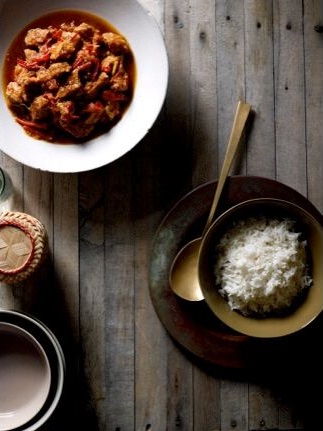 This is a Chinese-influenced dish, and the giveaway is the use of kecap manis, the local version of Chinese soy sauce that is thick, sweet and subtly spiced. Kecap manis became prominent on Balinese market shelves in the 1960s and 70s and has remained a favourite ever since. (In fact, all seasonings in bottles are not traditionally Balinese, and some old folk won't eat these modern flavourings because they don't like them.)
Today babi kecap is often prepared for major ceremonies such as Galungan, when pork is on the menu partly because it keeps well and can be eaten by families over two days. My sons love it and tend to always overload their plates, resulting in tummy aches the next day. Every home has their own variation of the dish with different techniques and twists; for example, I have seen our uncle roasting dry spices to add to the stew to create more aroma and fl avour. In our household, however, the recipe is simple without too many additional ingredients, but with a few fat tomatoes thrown in for good measure. The slow simmering of the meat results in a super tasty and tender dish that has all the charm and sustenance of a home-cooked casserole. Normally, chunks of glistening pork fat are added with the meat to create an unctuous gravy, but I have taken a bit of a health stand here and used lean meat only.
1–2 tablespoons vegetable oil
500 g lean pork, cut into chunks
8 garlic cloves, fi nely chopped
3–4 red shallots, fi nely chopped
1 tablespoon fi nely chopped ginger
2 large tomatoes, cut into large chunks (optional)
3 long red chillies, seeded and cut into long slivers
3 small red chillies, left whole
2 salam leaves
2 lemongrass stalks, bruised and tied together in a loose knot
2 tablespoons kecap manis
slice of shrimp paste equivalent to 1 teaspoon
2 teaspoons grated palm sugar
sea salt
750 ml water or chicken stock
2 tablespoons fried shallots
steamed rice, to serve
Heat the oil in a wok over medium heat and toss the pork for 3 minutes, or until sealed all over. Add the garlic, shallots, ginger, tomato (if using), chillies, salam leaves, lemongrass, kecap manis, shrimp paste, palm sugar and a little salt and fry for another minute, or until fragrant. Add the water or chicken stock and bring to the boil, then reduce the heat to a simmer and cook uncovered for at least 1 hour, or until the meat is tender. Taste for seasoning. Garnish with fried shallots and serve with steamed rice.
Serves 3–4