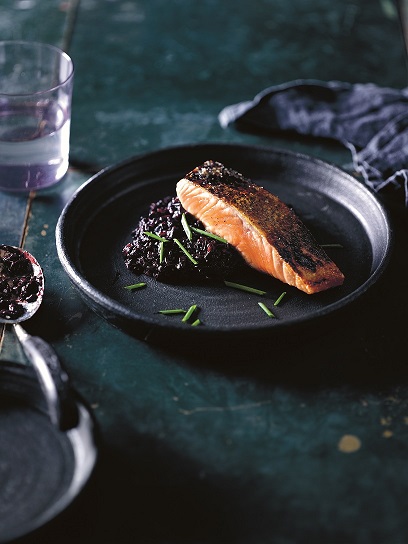 15 Mar

RECIPE OF THE WEEK: Black Rice Risotto with Salmon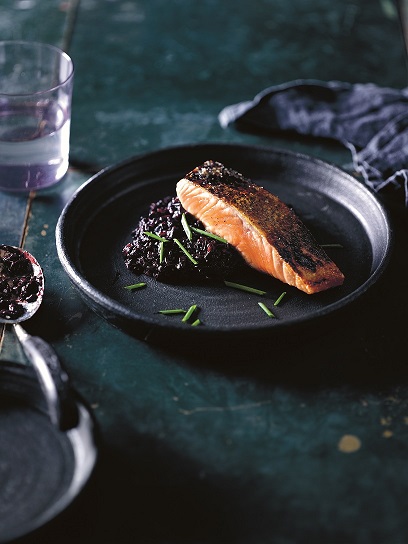 1 cup glutinous black rice, soaked overnight
3 tablespoons regular white rice, soaked for 1 hour
600 ml water
4 x 150 g Salmon fillets, skin on
Sea Salt
5 tablespoons butter
4 medium leeks, finely sliced
3 tablespoons seeded mustard
2 tablespoons lime juice
4 Kaffer lime leaves
500 ml chicken stock
Freshly ground black pepper
Vegetable oil
2 tablespoons cream
1 teaspoons greated palm sugar
2 tablespoons fried shallots
Chopped chives, to garnish
Strain the black rice and white rice and combine in a heavy-based saucepan. Add the water and bring the boil. Cook uncovered for 30 minutes, or until the black rice is a soft al dente and the water is absorbed or evaporated (you can add more water if the rice dries out before it is cooked)
Pat the salmon fillets dry. Pour a layer of salt onto a plate and press skin side of the filets onto it. Set aside for up to 1 hour. (the salt will dry the skin out a little and will be wiped off before cooking)
Heat a work or saucepan over low heat and add the butter. Once it has melted, throw in the leek and fry for 1 minutes, or until wilted. Add rice, mustard, lime juice, lime leaves and chicken stock. Simmer for 25 minutes or until the rice is soft and the stock is absorbed.
Towards the end of the cooking time, heat a frying pan over medium heat. Use the blande of a knife to wipe off the salt and any moisture from the skin of the salmon fillets. Seasons the skin with pepper and the flesh with salt and pepper. Heat a thin layer of oil in the pan and add the salmon fillets skin-side down. Weight them down gently with a plate, pressing the skin against the base of the pan. Cook for 1 minute, then remove the plate and cook for a further 2 minutes. Flip the fillets over and turn off the heat, allowing the fish to cook slowly for another 30seconds or so. Remove from the pan
Finish the risotto by stirring in the cream, plam sugar, salt and pepper to taste, and fried shallots.
Serve the cribs-skinned salmon fillets on top of the risotto and scatter with chives.