FRAGRANT RICE
                                                                A tale of love, marriage and cooking!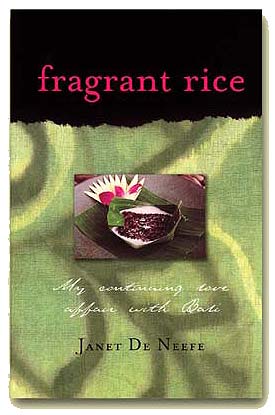 Fragrant Rice is a lifestyle recipe book with a difference – full of family stories, descriptive detail and brimming over with an infectious enthusiasm. Janet de Neefe assures us that a book on Balinese cuisine could never be an ordinary cookbook, as the secrets of this tropical island's food are embedded in ancient myths and magic. The preparation of food is steeped in ritual, which she generously shares with us – along with many of the recipes handed down through generations of her Balinese husband's family.
Fragrant Rice also includes a foreword reflecting on the impact the 2002 Bali bombing had on the island and its people.
"just to let you know that I have read your book and I absolutely loved it. I didn't buy it so much for the recipes but the way you talk about the Balinese people and their way of life."…..Dorothey