Category: Written Articles

The cuisine of Aceh is influenced by Arab and Indian spices that were introduced by foreign traders, and these, when combined with local produce and especially seafood, created a fascinating fusion of flavours.

Welcome to Ambon. I'm sitting in Sari Gurih, a bright, busy restaurant in the middle of town, faced with an enormous terracotta pot of papeda, transparent, glossy, boiled sago teamed with a large bowl of ikan kuah kuning, golden, fish soup. A young woman sings jazzy numbers alongside a DJ on a small stage and she does it well. That's right. Glen Fredly is from Ambon and this is the city of music!
The papeda and the fish soup are to be eaten together in a culinary marriage of sorts and it's enough to feed a whole wedding party (but there's only two of us!).… Read More


I'm at the home of Pak Rimpin, the man who makes the finest smoked duck in Ubud. Pak Rimpin lives in an area known as the Jungut, just a stone's throw from Casa Luna, tucked away in the back streets. He has been making smoked duck for as long as I can remember and when we have a ceremony we always order from him.

Posted on January 30th, by janet in
Food
,
Recipes
,
Written Articles
.
Comments Off on RECIPE OF THE WEEK | Fried noodles with caramelised cabbage (Mie goreng khol)
This is a super-simple dish that we often eat at home. It's a snack food for us, but you can jazz it up and serve it topped with Pork belly and Balinese spices or throw in some additional ingredients such as tofu, scallops, roast duck or prawns. Personally, I like it simple, and when I feel like a bowl of soft noodles with the subtle bite of chilli, this is what I make. You can use egg noodles or even 'mie instan' as there's no need to be snobbish about this one. The intention is that you can sit back, relax and indulge. Finish the noodles with a drop of sesame oil, sprinkle with your favourite chopped herbs, or add a teaspoon or two of Fried Sambal for extra kick.

Posted on January 25th, by janet in
Food
,
Recipes
,
Written Articles
.
Comments Off on RECIPE OF THE WEEK | Javanese tofu and scallop curry (Opor tahu dan scallops)
Opor, a dish from central Java, is usually described as a white curry. However this description does not do justice to dishes' dreamy and alluring flavours of galangal, ginger and lemongrass combined with mild green chillies. For me, opor is the quintessential Javanese dish: subtle, creamy and aromatic. In this modern interpretation I have selected scallops to partner tofu, to create what I think it a supremely elegant curry. It's the kind of meal to serve your girlfriends for lunch, on a day when you have plenty of time and loads to chat and giggle about – alongside free-flowing bubbly of course!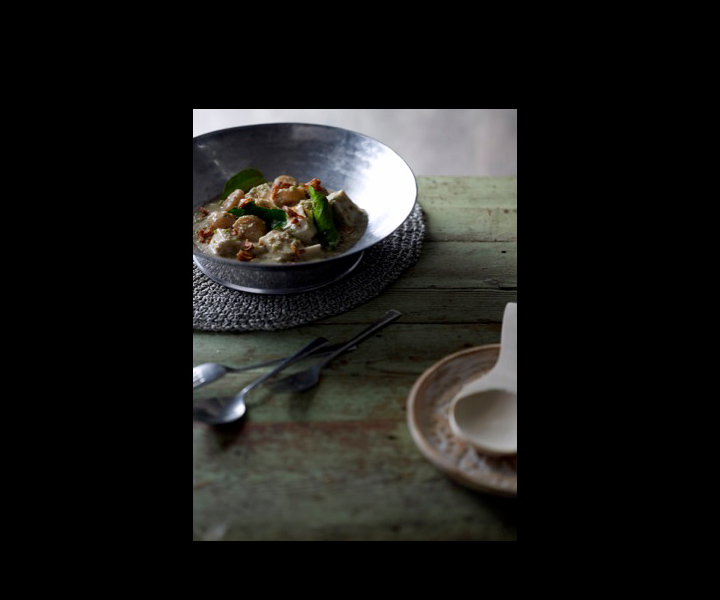 8 scallops
1 teaspoon tamarind pulp soaked in 2 tablespoons of water, strained 3 tablespoons oil
100 g tofu, cut into a size to match the scallops
2 lemongrass stalks, bruised and tied in knots
3 salam leaves
3 kaffir lime leaves
250 ml coconut milk
2 tablespoons fried shallots
2 teaspoons grated palm sugar
sea salt
SPICE PASTE
3 red shallots, roughly chopped
4 garlic cloves
2 long green chillies, roughly chopped 2 small green chillies, roughly chopped 3 tablespoons chopped galangal
1 tablespoon chopped ginger
5 candlenuts
3 teaspoons coriander seeds
1/2 teaspoon white pepper
1/2 teaspoon cumin seeds
1/2 teaspoon shrimp paste
Mix the scallops with the tamarind water and set aside.


This is one of the many barbecued dishes that are served by the sea at Jimbaran. In what was formally a rustic coastal eating place dotted with simple grass huts, there are now hundreds of bamboo tables and chairs perched on the sand, and tonnes of seafood being served, from prawns to lobster and snapper to squid, for eager tourists. The secret at Jimbaran is cooking the seafood over coconut husks for a delectable smokiness, and the moist heat of the husks creates tender meat with glazed and burnished skin without dryness. If you are flying into Denpasar at night, the smoke from the barbecues at Jimbaran bay looks like an enormous bushfire.

Welcome to the New Year!
I hope that you have all had a restful and rejuvenating holiday period.
I have spent the festive season reflecting on the hidden joys and beauty to be found on the island that I am lucky enough to call home (while also enjoying a few too many succulent sate sticks!).
With an abundance of fresh produce including glorious spices, fragrant rice, cashews and coffee, Bali truly is a foodies paradise.
This year I want to tell you more about the magic of Bali and the stories behind the ingredients in my cooking. I will be sharing stories and images from Ubud and across Bali so that you can enjoy and appreciate¬ how fresh organic produce and local ingredients make their way into my kitchens.

Posted on November 6th, by janet in
Written Articles
.
Comments Off on RECIPE OF THE WEEK | Coconut Pannacotta
30gm white sugar
1⁄4 cup water
1 1⁄4 cup coconut milk
1 leaf of titanium strength gelatine or 2 teaspoons gelatine 2 fat pieces orange rind, grated
1 teaspoon vanilla extract
2 pandan leaves, tied together in one knot
400ml whipping cream
Place the cream in a large bowl and set aside. Dissolve the sugar with the water over a low flame in a heavy-based saucepan. This will only take a few minutes. Add to the dissolved sugar, the grated orange rind, vanilla, pandan leaves and coconut milk. Over a low flame cook gently for 15 minutes. Meanwhile soak the gelatine leaf in cold water for 5 minutes or until softened.

Posted on October 24th, by janet in
Food
,
Recipes
,
Written Articles
.
Comments Off on RECIPE OF THE WEEK | Balinese Beef Rendang – Rendang Sapi
In keeping with Hindu dietary restrictions, beef is seldom served in a Balinese household. That doesn't mean it's forbidden though! Meat in Bali, is always cooked with a pile of fresh spices that tenderize, preserve, uplift and nurture. It's also about aiding digestion and a dash of tamarind, a few sprightly gingers and lemongrass will always help that process.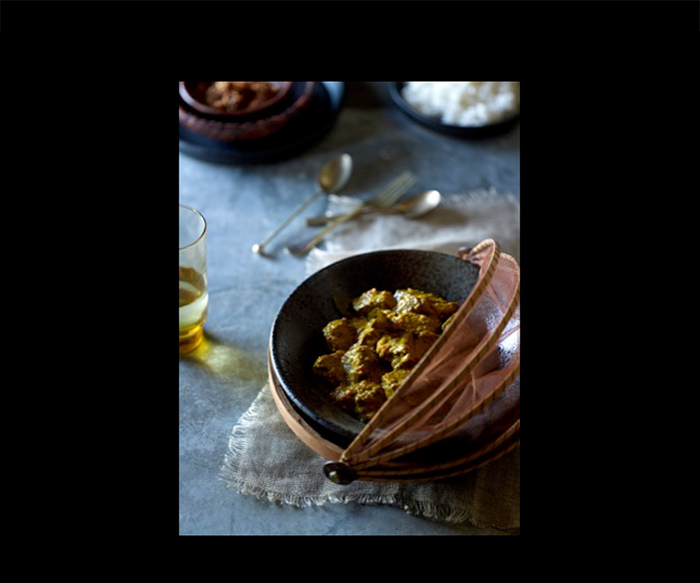 This recipe is a Balinese version of rendang and spotlights the acclaimed trio of galangal, turmeric and ginger, that constantly feature in Indonesian cooking. It has all the virtues of a slow-cooked stew; comforting, full of flavour, tender and deeply aromatic. It is also a joy to cook as the aroma that floats around the house, while the curry is simmering in the pot, is glorious.
---