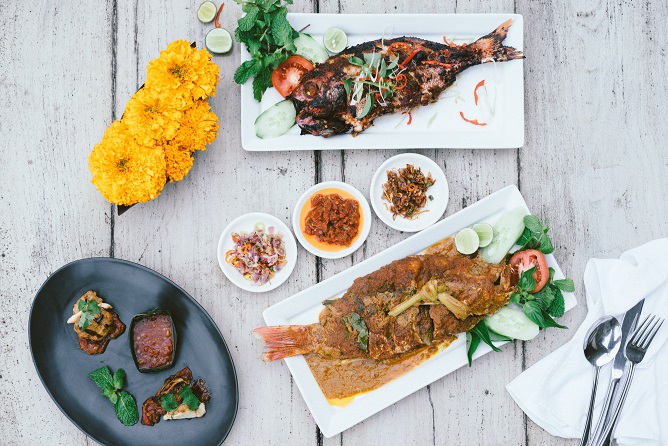 06 Nov

Fish in Tomato and Lemongrass Sauce (Ikan Mekuah)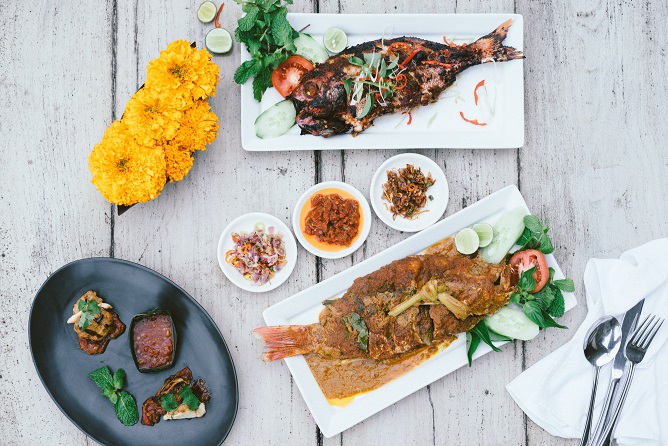 This is an elegant dish that celebrates the flavours of fresh fish, tomato and lemongrass – and torch ginger if it is available. A favourite in my cooking classes, it has a relatively simple method with most of the work being in the spice paste – after making that, the rest is quick. I have made the dish with salmon, Spanish mackerel, flake, mixed seafood and chicken, and even added tofu, and have never been disappointed. The delicate sauce of tomato and coconut milk is a refreshing alternative to the usual turmeric-laced curries.
3 tablespoons vegetable oil
2 lemongrass stalks, bruised and tied together in a loose knot
1 torch ginger shoot about 15 cm long, bruised (if available)
2 salam leaves
3 kaffir lime leaves
500 g firm fish fillets, such as Spanish mackerel, cut into bite-sized chunks
sea salt
250–375 ml light coconut milk
2 teaspoons wet tamarind pulp dissolved by hand in 3 tablespoons water, strained
1 tablespoon fried shallots, plus extra to garnish
steamed rice, to serve (page 74)
Spice paste
3 candlenuts
3 teaspoons coriander seeds
3 red shallots, roughly chopped
5 garlic cloves
5 long red chillies, seeded and roughly chopped
2 small red chillies, roughly chopped
1 thumb of galangal, roughly chopped
1 torch ginger shoot about 15 cm long, roughly chopped (if available)
1 large or 2 small lemongrass stalks, white part only, roughly chopped
2–3 medium tomatoes, roughly chopped
slice of shrimp paste equivalent to ½ teaspoon
1 tablespoon grated palm sugar
Pound the spice paste ingredients to a smooth paste in a large mortar, or blitz in a blender or food processor.
Heat the oil in a wok over medium heat and fry the spice paste for at least 1 minute, or until fragrant and sticky. Add the bruised lemongrass and torch ginger, salam leaves and lime leaves and toss for another minute, then lower the heat and add the fish and some salt. Fry for a minute, gently tossing the fish around until sealed. Add the coconut milk and tamarind water and simmer for 3 minutes, or until the fish is just cooked. Stir in the shallots and taste for seasoning. Garnish with extra fried shallots and serve with steamed rice.
Serves 4–8
THE INGREDIENTS
LEMONGRASS: SEREH
Native to South East Asia, lemongrass is a tropical grass, related to citronella, with a bulbous root and thin blade-like leaves. It has a distinctive, aromatic lemon flavour and is a good source of vitamins A and D. Only the bulb is used and this can be ground, chopped or tied into a knot.
KAFFIR LIME: JERUK PURUT / LEMU
Both the fruit and the leaves are used in cooking. The fruit is only small and has a concentrated lime flavour. The leaves, known as daun jeruk purut or daun lemu, are dark green and glossy, and when finely chopped add the same distinctive flavour as the fruit. The Balinese also use a type of lime called Calamondin or Kalamansi, as it is known in the Philippines, and this is smaller, juicier and more
TORCH GINGER: BONGKOT
An especially tall, wild ginger, with an intriguing flavour and delicate pink flower. In Bali, both the young shoot, bongkot and bud, kecicang, is used in the cooking. The bud is eaten raw in certain sambals or added as an aromatic to curries and soups, while the young shoot can either be ground into a paste or bruised an added whole like lemongrass. Torch ginger is particularly delicious with seafood.
CANDLE NUT: KEMIRI
Obtained from the candleberry tree, the candlenut is an oily nut similar to the macadamia. It is soft and therefore easy to work into a paste and is used for thickening sauces, adding a pleasant nutty flavour. It is one of the few nuts that should not be eaten raw and is rich in protein, calories, and fats.Substitute: Macadamias, almonds, cashews, Brazil nuts
GALANGAL: LAOS, LENGKUAS, ISEN
A member of the ginger family and similar in appearance, but larger. The aromatic root of the plant has a sweet, woody fragrance and is used mainly to disguise fishy odors. Substitute: Frozen, dried galangal
SHRIMP PASTE: TERASI / BELACAN
A pungent seasoning essential to Southeast Asian cooking and made up mainly of fermented crustaceans. In Bali shrimp paste is either fried or roasted. Store it wrapped in foil in a glass jar and leave it in the refrigerator and don't forget to open the windows while cooking! Shrimp paste is rich in protein.