Category: Uncategorized

Posted on June 12th, by janet in
Uncategorized
.
Comments Off on Bakso and the Fasting Month!
Late in the afternoon, village streets across the archipelago become a moveable feast. Above the din of cars, motorbikes, children and the cranking, cooing and raucous sounds of nature, distinctive local music heralds a most comforting message – it's time to eat. The percussion of knives, spoons, bowls, plates, glasses all become part of a culinary orchestra and as the sun starts to descend it's on with the show as a chorus line of street vendors appears on the horizon.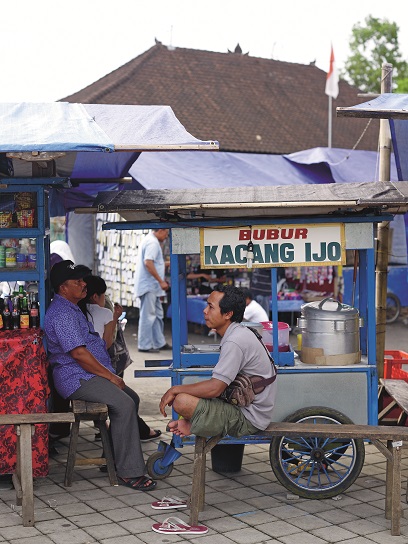 Posted on March 1st, by janet in
Uncategorized
.
Comments Off on Recipes from the Banda Islands: Nutmeg Fish Soup
Nutmeg Fish soup
2 tbs oil
4 lemongrass 5 lime leaves
9 red shallots, sliced lengthwise
7 garlic cloves, sliced lengthwise, finely
1-2 mild red chilli, sliced finely
2 cups water
40gms galangal, smashed
10 nutmeg fruit or 10 wild starfruit
1 kg fish such as trevally, snapper, sliced into 5cmx5cm pieces 2 tomatoes, sliced into 8 kemangi or Thai basil, chopped
Heat the oil over a medium flame. Fry the lemongrass with the lime leaves for a minute. Add the red shallots and garlic and fry for 20 seconds, then add the mild chilli. Add the water and bring to the boil and simmer 3 minutes. Then add the nutmeg fruit or wild starfruit or lime juice.… Read More

Posted on February 5th, by janet in
Uncategorized
.
Comments Off on Recipes from the Banda Islands: Ulang-Ulang
Ulang-Ulang
Gado-gado with local almonds
200gms tuna or makerrel
1 tbs oil (sunflower, safflower )
¼ tsp terasi /shrimp paste (optl)
9 red shallots, finely sliced
1-2 mild red chilli, finely sliced
½ cup kenari or almonds, ground
2 tsp white or raw sugar
medium cucumber, very finely sliced
½ cup mung sprouts (cleaned if possible)
cup long beans, shaved in super thin slivers
½ cup carrot, grated
¼ cabbage, finely sliced
Slice the fish into bite-sized chunks approx 5cmx5cm. Heat the oil in a wok and fry the fish until dry. Add the terasi at the end and fry for 2 minutes. Grind the fish until dry with the terasi.… Read More

Posted on January 26th, by janet in
Uncategorized
.
Comments Off on Happy Straya Day!
Happy Straya Day!
I'm thrilled to be one among many Australians with a passion for Indonesia and its people. It's been my home for more than 30 years. Visit Australia Unlimited to learn about those who are making difference here in Indonesia.

Posted on January 6th, by janet in
Uncategorized
.
Comments Off on Black-rice risotto with Salmon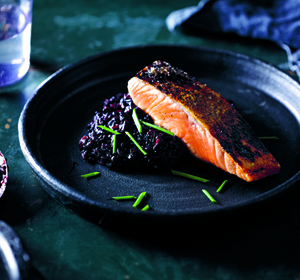 This is a totally unorthodox but delicious and interesting way of serving black rice. In Bali, black rice is normally eaten as a sweet snack in the morning or afternoon, but, in this case I have matched the nutty chewiness of the rice with the full-bodied flavour of salmon – the salmon gloriously coral against the midnight black of the grain. (In fact, I have mixed the black rice with a little white rice as we do with rice pudding, to create a more complex and interesting flavour and texture.) Beyond visuals, there is the added bonus of omega-3 oils in the salmon and vital minerals in the black rice. Serves 4.… Read More

Posted on November 6th, by janet in
Uncategorized
.
Comments Off on Fish in Tomato and Lemongrass Sauce (Ikan Mekuah)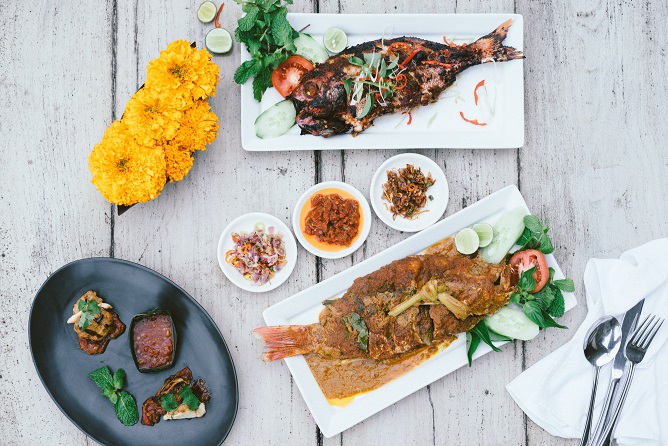 This is an elegant dish that celebrates the flavours of fresh fish, tomato and lemongrass – and torch ginger if it is available. A favourite in my cooking classes, it has a relatively simple method with most of the work being in the spice paste – after making that, the rest is quick. I have made the dish with salmon, Spanish mackerel, flake, mixed seafood and chicken, and even added tofu, and have never been disappointed. The delicate sauce of tomato and coconut milk is a refreshing alternative to the usual turmeric-laced curries.
3 tablespoons vegetable oil
2 lemongrass stalks, bruised and tied together in a loose knot
1 torch ginger shoot about 15 cm long, bruised (if available)
2 salam leaves
3 kaffir lime leaves
500 g firm fish fillets, such as Spanish mackerel, cut into bite-sized chunks
sea salt
250–375 ml light coconut milk
2 teaspoons wet tamarind pulp dissolved by hand in 3 tablespoons water, strained
1 tablespoon fried shallots, plus extra to garnish
steamed rice, to serve (page 74)
Spice paste
3 candlenuts
3 teaspoons coriander seeds
3 red shallots, roughly chopped
5 garlic cloves
5 long red chillies, seeded and roughly chopped
2 small red chillies, roughly chopped
1 thumb of galangal, roughly chopped
1 torch ginger shoot about 15 cm long, roughly chopped (if available)
1 large or 2 small lemongrass stalks, white part only, roughly chopped
2–3 medium tomatoes, roughly chopped
slice of shrimp paste equivalent to ½ teaspoon
1 tablespoon grated palm sugar
Pound the spice paste ingredients to a smooth paste in a large mortar, or blitz in a blender or food processor.… Read More

Posted on October 2nd, by janet in
Uncategorized
.
Comments Off on RECIPE OF THE WEEK: Jackfruit curry (Jukut nangka)
Jackfruit curry is commonly served at ceremonies because it lasts a few days, but unlike some other ceremonial dishes, this is also everyday fare. Slow-simmered with spices, the jackfruit develops a soft, chewy texture not unlike tender beef. The optional addition of slaked or hydrated lime (calcium hydroxide), which may seem unusual but is a traditional ingredient, and it is also a feature of Indian and Latin American cooking, gives the curry a distinctive pinkish glow while adding a dose of calcium. Jackfruit can be found at Asian grocers, but if unavailable you can experiment with choko or green papaya. Canned jackfruit just won't be the same.
1 kg piece green jackfruit
1 teaspoon slaked or hydrated lime (calcium hydroxide) mixed
with 1 litre water (optional)
3 tablespoons vegetable oil
4 tablespoons
Base Genep (page 4)
3 salam leaves
3 kaffir lime leaves
2 lemongrass stalks, bruised and tied together in a loose knot
200 g pork bones or 1 –2 chicken thighs on the bone (optional)
1 litre water, extra
2 tablespoons grated palm sugar
sea salt
3 tablespoons coconut milk (optional)
fried shallots, to garnish
Wear gloves to prepare the jackfruit to avoid being covered in the rubbery liquid that seeps out.… Read More

Posted on September 13th, by janet in
Uncategorized
.
Comments Off on Suna-Cekoh and Base Wangen Recipe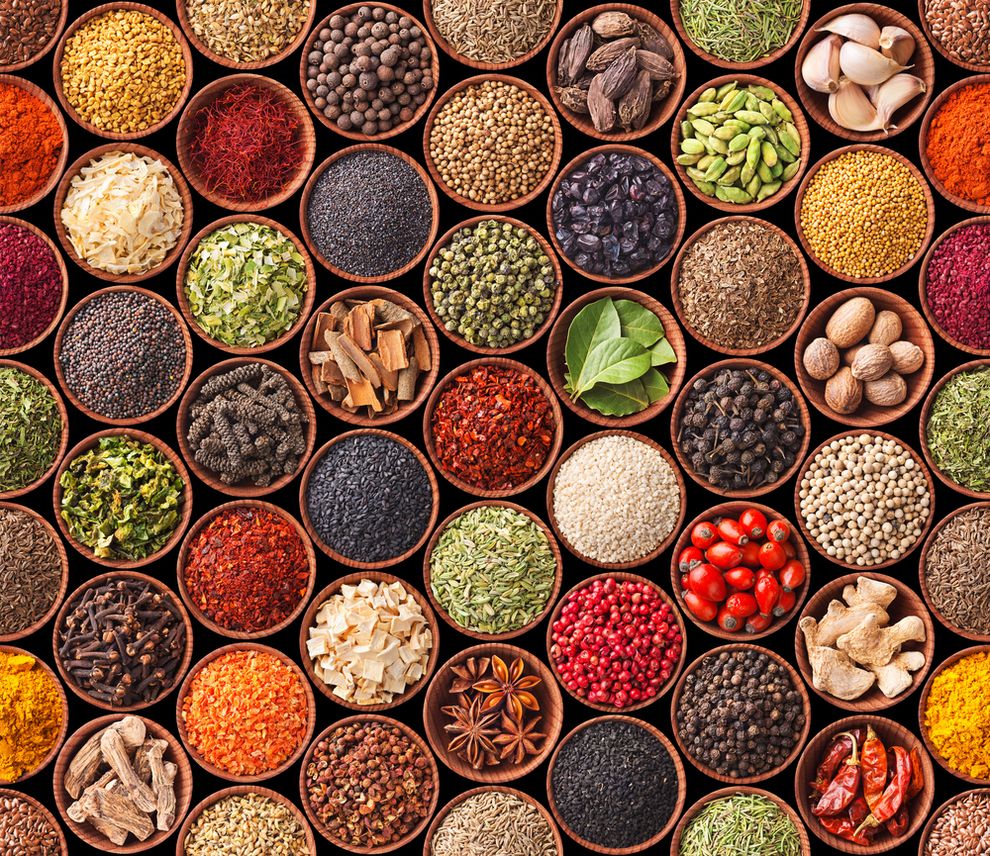 Garlic and kencur paste (Suna-cekoh)
Suna-cekoh consists of four main ingredients – garlic and kencur are the primary components, combined with turmeric and candlenuts. You can also add a pinch of Base Wangen  (page 9) if you love peppery flavours. The intense, vibrant yellow paste has the most alluring, unusual fragrance. A small amount works wonders in peanut sauce and adds an element of luxury to vegetables, soy products and meat, especially chicken. Simmered with coconut milk and extra aromatics, it forms a divine glossy sauce to make you purr. At Casa Luna, we make the paste every morning and add it to many dishes on the menu to add extra flavour and a distinct aroma.… Read More

Posted on August 30th, by janet in
Uncategorized
.
Comments Off on RECIPE OF THE WEEK: The Complete Spice Mix (Base Genep)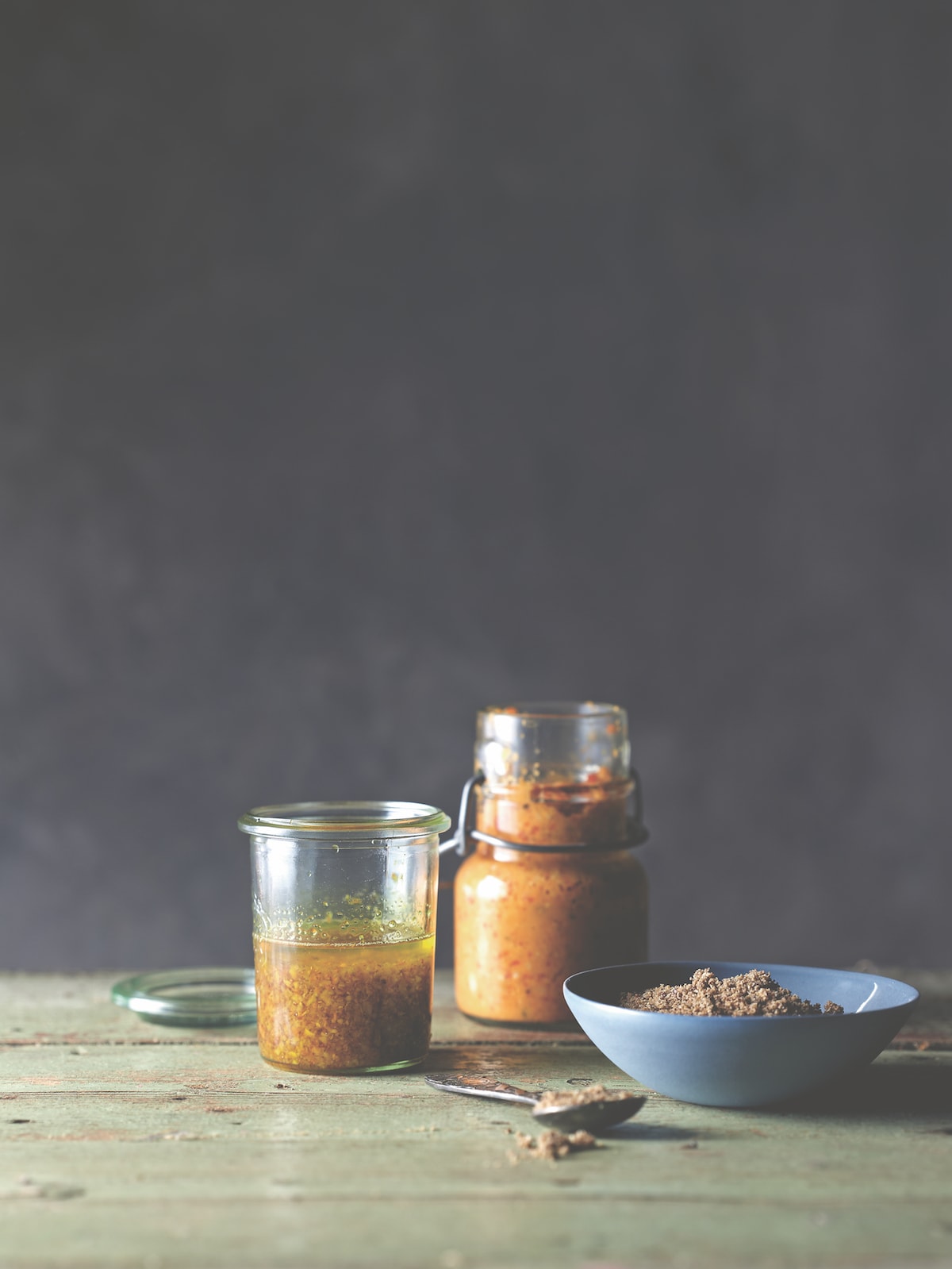 Base genep is a multi-layered spice paste that appears in many Balinese dishes, from elaborate ceremonial foods to everyday fare. It contains all the spices that are precious to the Balinese, and virtually every ingredient is armed with healing properties.
I admit, the list is a bit daunting, but put on some groovy music, pour yourself a glass of wine and plough forth with a smile on your face. You'll see the paste is not difficult to make – on the contrary, it is even therapeutic and uplifting (cooking is as much about feeding the soul as it is about filling the tummy).
Grind the candlenuts, peppercorns, coriander seeds, cloves and sesame seeds to a powder in a large mortar.… Read More

Posted on August 16th, by janet in
Uncategorized
.
Comments Off on Coconut Rice Recipes

Coconut Red Rice (Nasi Merah Mesanten)
This is based on a Sri Lankan milk rice that I tasted in Galle a few years ago. It is not unlike Nasi Uduk (page 78) except for the obvious difference of the grain and the fact that it is set to cool in a dish and served cut into diamonds. Red rice is wonderfully nutty and chewy and the addition of coconut milk adds a lovely creamy touch. Like brown rice, red rice is brimming with goodness and is perfect to serve to your vegetarian friends. This is especially delicious with soupy stews and creamy curries.
2 cups red rice, soaked for 30 minutes
2 pandan leaves, tied together in a loose knot
3 salam leaves
400 ml coconut milk, plus 3 tablespoons extra sea salt
Strain the rice and put it into a large heavy-based saucepan with the pandan and salam leaves.
---