Category: Uncategorized

Martabak Telor is a supremely delicious snack of Arab-Indian origins. Think paper-thin pastry meets omelette and there you have martabak telor.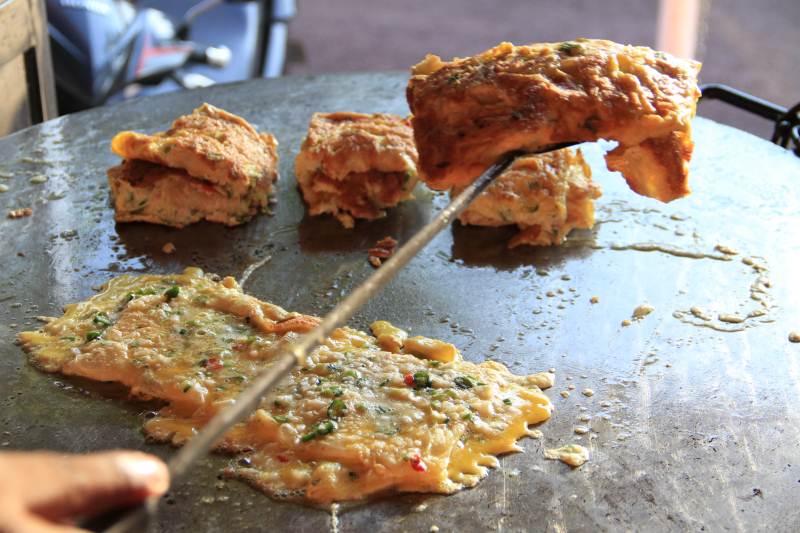 … Read More

Back on board Katherina, Sea Treks's elegant Phinisi boat, cruising the Komodo Islands for 6 days after the Ubud Writers & Readers Festival. Hard to believe!… Read More

The cuisine of Aceh is influenced by Arab and Indian spices that were introduced by foreign traders, and these, when combined with local produce and especially seafood, created a fascinating fusion of flavours.

Welcome to Ambon. I'm sitting in Sari Gurih, a bright, busy restaurant in the middle of town, faced with an enormous terracotta pot of papeda, transparent, glossy, boiled sago teamed with a large bowl of ikan kuah kuning, golden, fish soup. A young woman sings jazzy numbers alongside a DJ on a small stage and she does it well. That's right. Glen Fredly is from Ambon and this is the city of music!
The papeda and the fish soup are to be eaten together in a culinary marriage of sorts and it's enough to feed a whole wedding party (but there's only two of us!).… Read More

One of Indonesia's national treasures, and also found in Malaysia and Singapore, rujak, is the ubiquitous afternoon snack. When the sun starts its descent and the heat of the day starts to dull the brain, just about every Balinese I know tucks into this action-packed fruit salad with a savoury dressing that is guaranteed to slap you out of a tropical slump.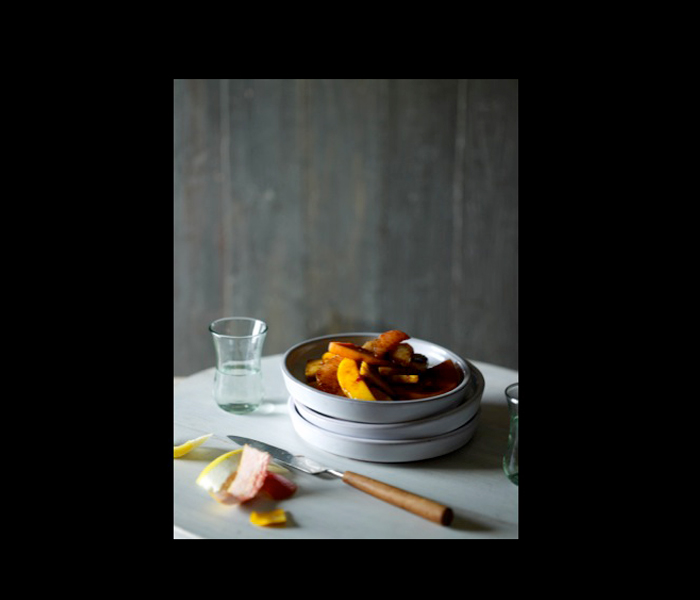 It combines the energizing four pillars of Asian cooking: sweet, sour, spicy and salty, and it clears the mind, refreshes the palette, speeds up the metabolism and offers a generous dose of vitamin C, iron, folic acid and calcium. Pregnant women crave its strong flavours, and rightly so.
As soon as my children are home from school, they feast on rujak mixed with any amount of seasonal fruit.

From unique boutiques to covetable keepsakes and handcrafted creations, Ubud has treasures aplenty. Here are just some of my personal favourite places to shop in the local area.
Blue Stone Botanicals in Ubud offers a glorious range of soaps, essential oils, balms and burners. You can find the perfect aromatherapy present here or something to soothe and scent your world.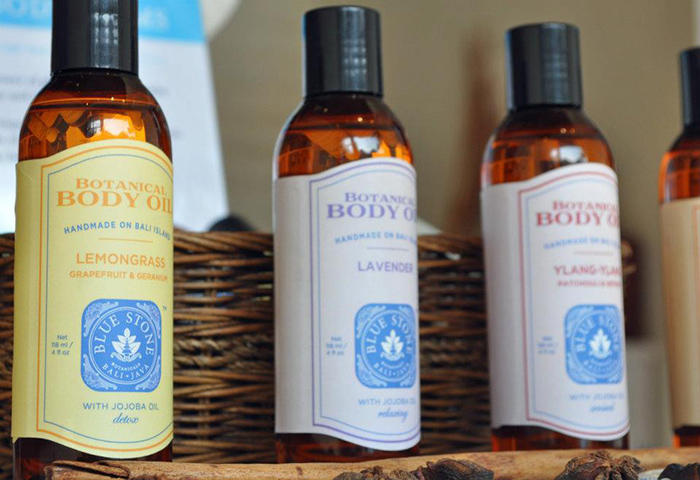 Nava Bali Ceramics in Monkey Forest Road has theee cutest tea-pots and zen-style cups, plates and accessories in matt ivory-white with teak trimmings with tea spoons and other accessories to match.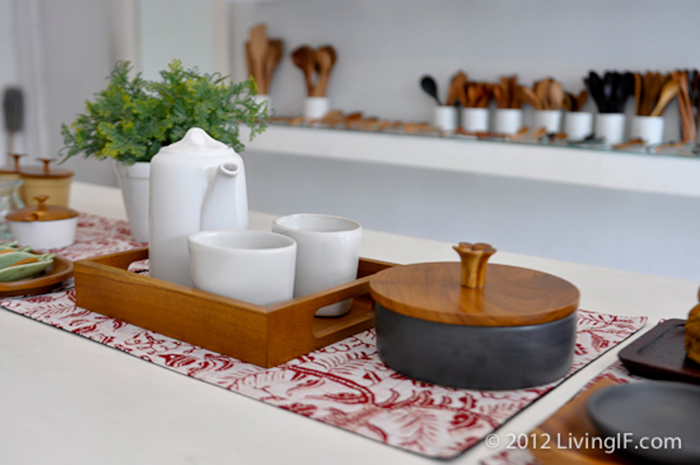 Lilla Lane on Monkey Forest Road near the soccer field is where I always buy my summery sandals. They are elegant, super comfortable and a great price.… Read More

Sambals are Indonesia's essential condiments. Not a meal goes by in our house without a sambal being served alongside. Sambals come in all shapes and sizes, cooked in all sorts of ways and they vary from island to island. Some of these are also sold bottled in Asian food stores.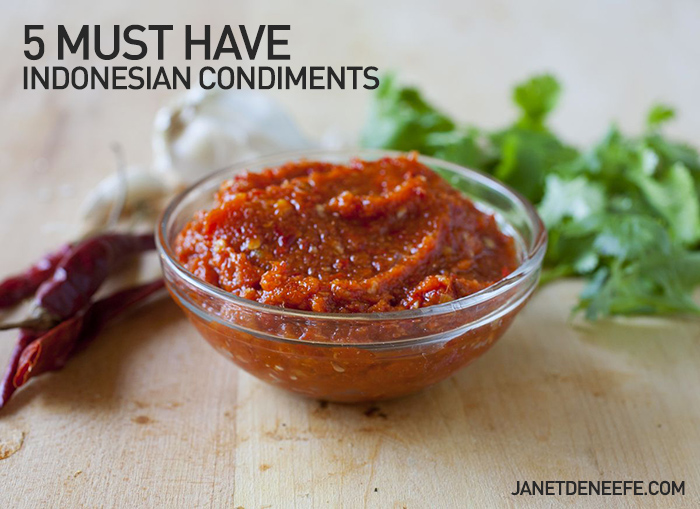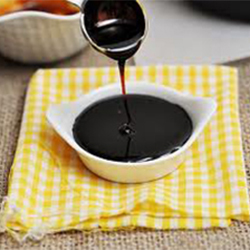 Kecap manis is one of Indonesia's most popular sauces that can be used to flavour a thousand dishes. Mix a few chopped green chillies with some kecap manis and you have a great sambal.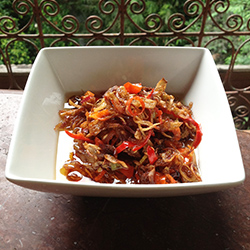 Sambal goreng literally means fried sambal and is a mix of crisp fried red shallots, red and green chilli, shrimp paste and salt. It is a deeply-flavoured full-bodied condiment that compliments just about anything, especially red meat.… Read More

Posted on July 19th, by janet in
Food
,
Uncategorized
.
Comments Off on Long-table Dinners | July 2013
What a lovely evening. Our first long table dinner for the season. The atmosphere was glowing in that glorious Balinese candle-lit way. Wines were poured, food was served and conversation flowed. And everything was delicious! The menu, many of my favourites; prawns and coconut in banana leaves, braised chicken with gingers, cucumber in coconut milk, tempe in tomato sambal, Sumatran-style noodles, jackfruit curry, acar salad and sambals. Dessert, one of my favourites, sago pudding with palm sugar topped with a generous scoop of vanilla bean ice cream.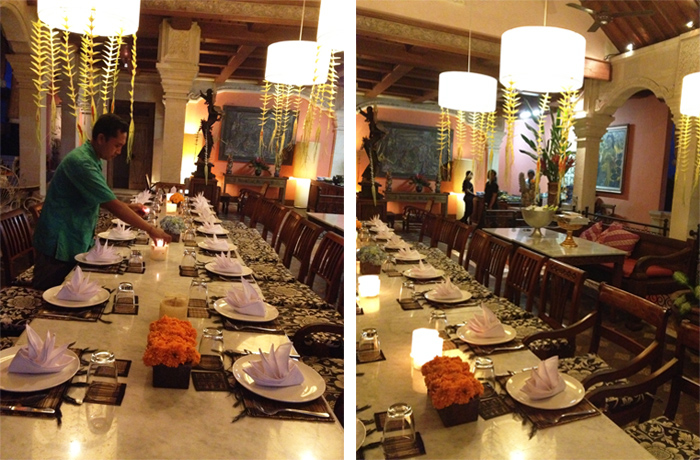 Tempe Sambal Penyet
Tempeh sambal
Tempeh is one of the cheapest sources of protein in Indonesia.  It is higher in protein, vitamins and dietary fibre than tofu because it is made of whole soy beans as opposed to soy milk.… Read More

Posted on December 27th, by janet in
Uncategorized
.
Comments Off on Gourmand World Cookbook Awards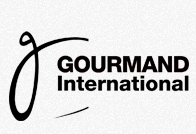 "THE BEST IN THE WORLD 2012" | COOKBOOKS SHORTLIST – THE FINALISTS
 Title of the Book: Bali.The Food of my Island Home
CONGRATULATIONS
Bali: The Food of My Island Home written by Janet DeNeefe  nominated for category C08-Best Asian Cuisine Book of the Gourmand World CookBook Awards for "Best in the World" 2012.
 http://www.cookbookfair.com/index.php/component/k2/item/51-cookbooks-finalists-2012
---