Category: Uncategorized

Elegant, ivory white and melt in the mouth, this sublime treat is a blend of coconut and pandan – Asia's classic dessert duo – tinged with the seductive surprise of orange. There is just enough gelatine to make the pannacottas voluptuous and not too firm (but if you live in the tropics as I do, you might need to add more). I love these served with a drizzle of palm-sugar syrup, but I also sometimes serve them topped with a spoonful of Black Rice Pudding (page 208) for a dramatic colour contrast. Either way, it is a dessert you almost have to dress up for!
The pannacottas set overnight so you need to begin this recipe a day ahead.… Read More

Posted on July 18th, by janet in
Uncategorized
.
Comments Off on All the ways to enjoy coconut in Bali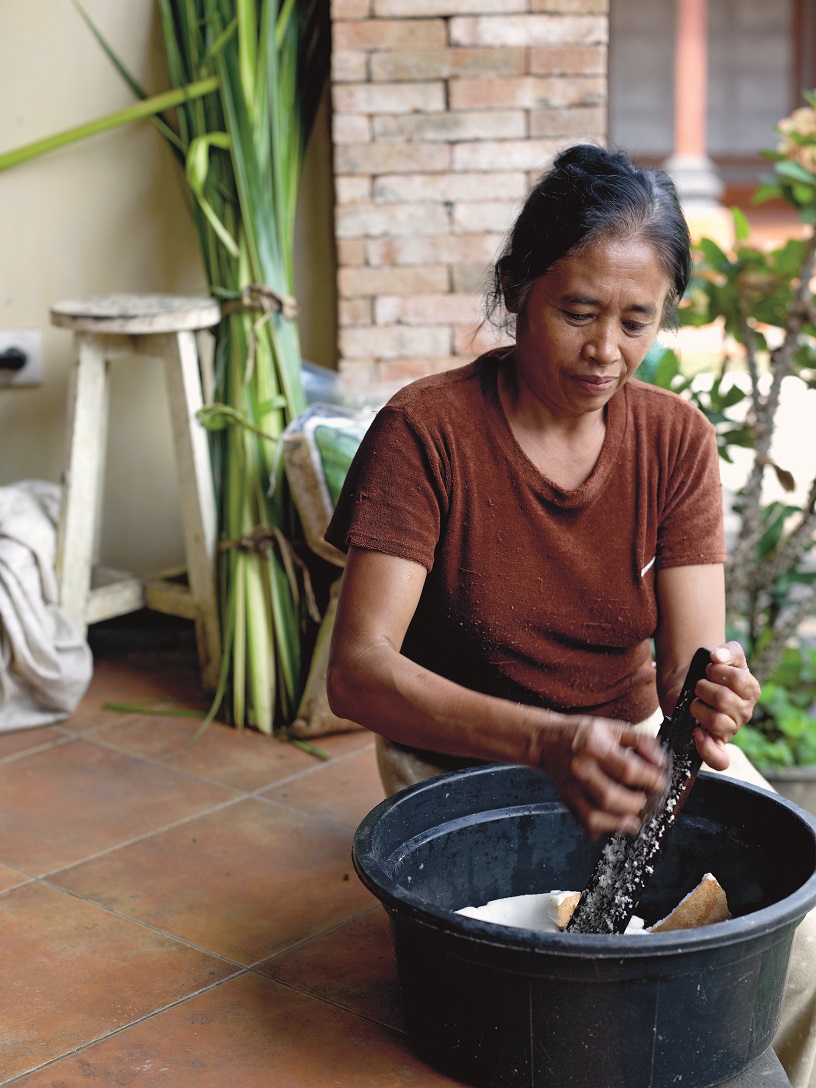 Coconut, grated In Bali, fresh coconut is always the starting point for recipes featuring coconut – whether it is grated or in the form of coconut milk. A coconut is split open and the flesh is priced out from the shell. The pieces are either left raw or roasted over a flame before being grated to add to salads or to use to make coconut milk. Away from the tropics, frozen pre-grated coconut is acceptable in recipes that call for grated coconut and can be found at Asian grocers. However, in recipes calling for fresh coconut to be roasted, it is best to seek out the real thing. Coconut milk Making coconut milk from grated coconut is a simple process that involves mixing the coconut with water and wringing it out to produce milk.… Read More

25 Nov-3 Dec
Early Bird Ends 31 Aug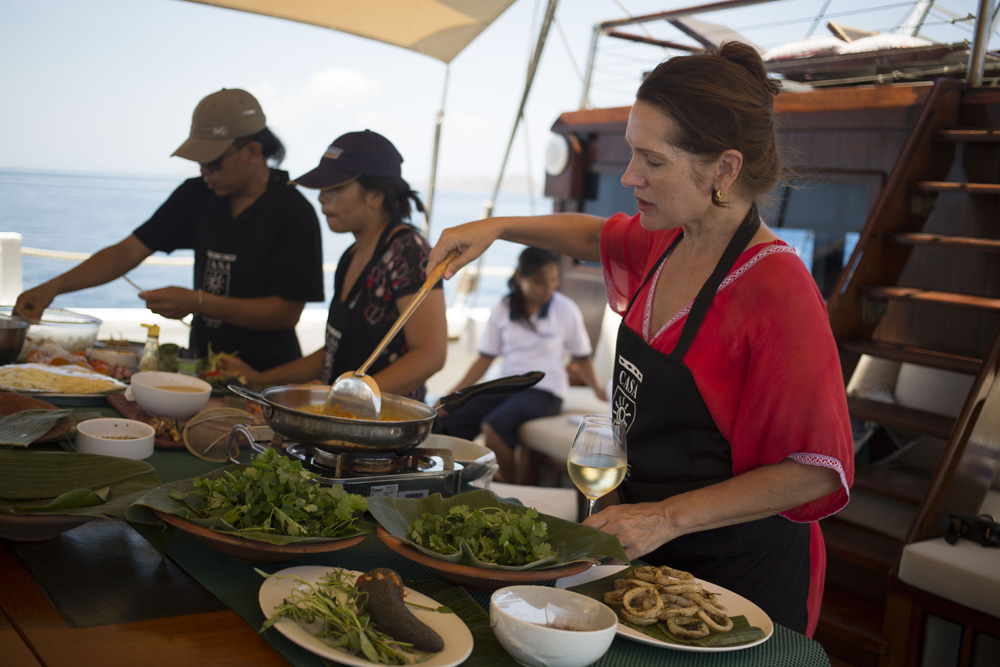 It's the year of the humble nutmeg and the Banda Islands. Join me on a cruise to the legendary spice islands and the island of Banda Neira and Run, inhaling history that changed the world, in between glorious Indonesian meals, trekking, snorkelling, swimming, and simply relaxing on pristine waters. Early bird special prices of AUD 3,900 ends 30 Aug. Deposit required. Contact pa@janetdeneefe.com for more information.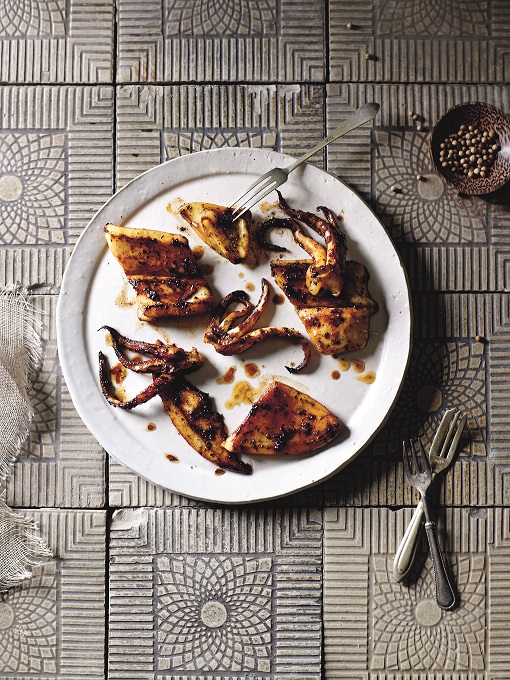 This is one of the many barbecued dishes that are served by the sea at Jimbaran. In what
was formally a rustic coastal eating place dotted with simple grass huts, there are now
hundreds of bamboo tables and chairs perched on the sand, and tonnes of seafood being
served, from prawns to lobster and snapper to squid, for eager tourists. The secret at
Jimbaran is cooking the seafood over coconut husks for a delectable smokiness, and the
moist heat of the husks creates tender meat with glazed and burnished skin without
dryness. If you are flying into Denpasar at night, the smoke from the barbecues at
Jimbaran bay looks like an enormous bushfire.… Read More

I'm crazy about mie. Not mie as in me but mie as in Bakmi. I confess I am not an expert and I only like bakmi ayam, but, hey, that's ok. I can think of worse addictions.
The secret is in the unctuous, full-flavoured, sweetly meaty, slow-brewed chicken stock . Then there is the quality of the noodles. Homemade are best and they should be not too fat, not too slender, somewhere between Hong Kong and Udon, and cooked al-soft-dente.  From what I have seen, most mie sellers have the stock on a constant roll so the flavour intensifies into golden, brothy, velvety heaven.
Bakmi Roxy, in Cikini Raya, is a favourite and with a punchy name like that, how can you go wrong?… Read More

Never before has the word "organic" been more powerful in Ubud. Now a raw, vegan, fresh food destination, Ubud is spearheading the global "green" phenomena with world-class establishments dishing up their own versions of all that is healthy, chemical-free and locally grown.
Bali Buda has been serving vegetarian food for as long as I remember and have been a force behind the island-wide organic movement. They have so many tasty favourites, a range of gluten-free, raw cakes, breads and a health-food store alongside. If you are seeking anything organic, this is where you will find it.
Established in 2011, Alchemy is one of Bali's first raw, vegan cafés. Salads bowls are the mainstay and are piled high in generous mountains of goodness alongside other hearty raw fare and smoothies in every colour.… Read More

I guess it's because it's lunchtime and I'm hungry that I'm dreaming of Mie. Not me as in me, but Mie as in noodles. Fat, soft, slurpy, deeply chicken-broth fragrant, Jakarta-style noodles. Now everyone has their favourite and feel free to overload my inbox with suggestions. When you love noodles, what to do! But I love Bakmi Roxy in Cikini, or maybe it's the name I love (Whatever happened to Bryan Ferry?)
The meat really has to be chicken and simmered in a slow-brewed chicken stock. And when I say chicken, it has to be dark, moist, super-tasty thigh.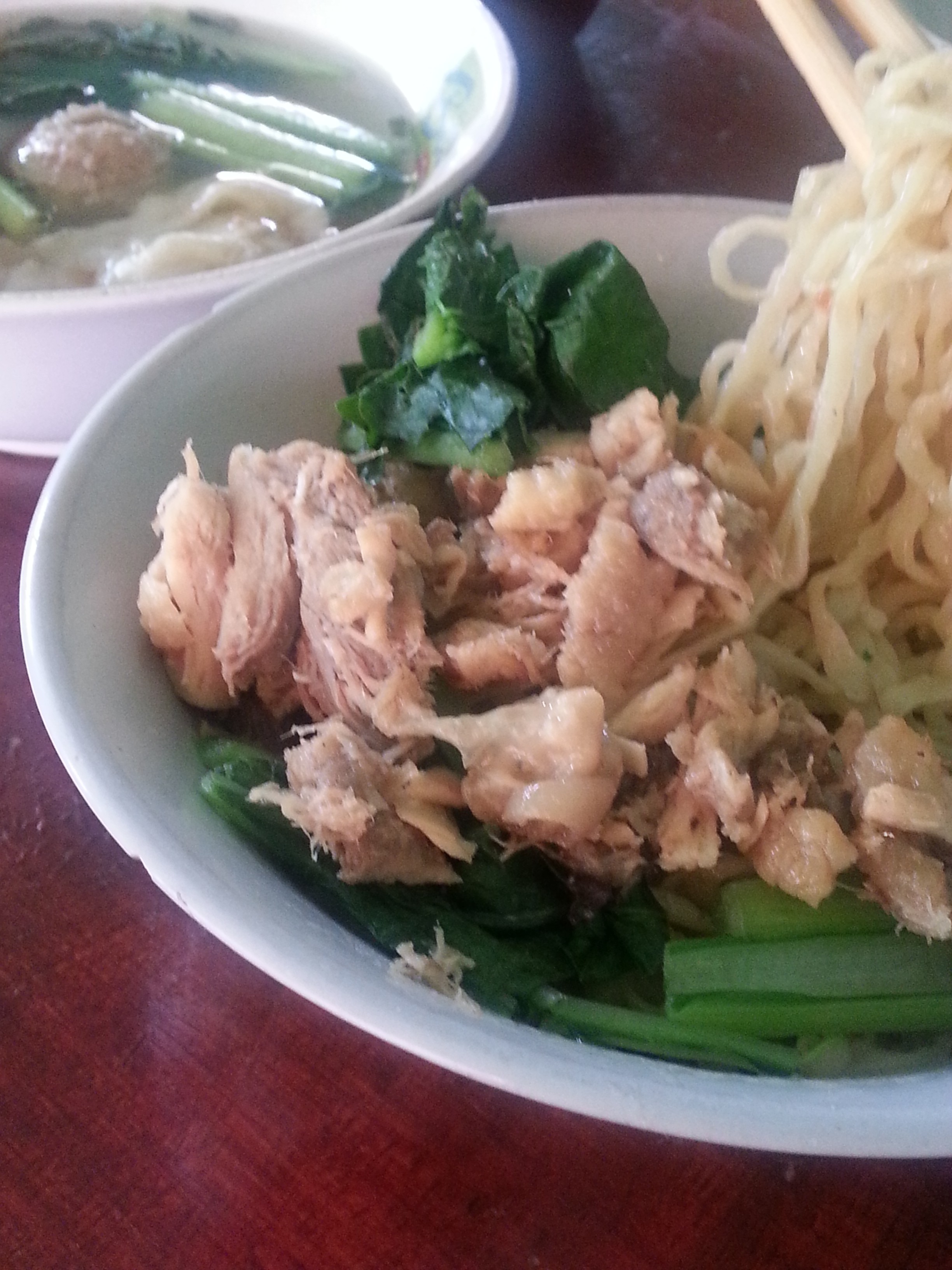 And it should be chunky, with attitude. A memorable thigh-rich journey.… Read More

Posted on September 19th, by janet in
Uncategorized
.
Comments Off on Fish in Banana Leaves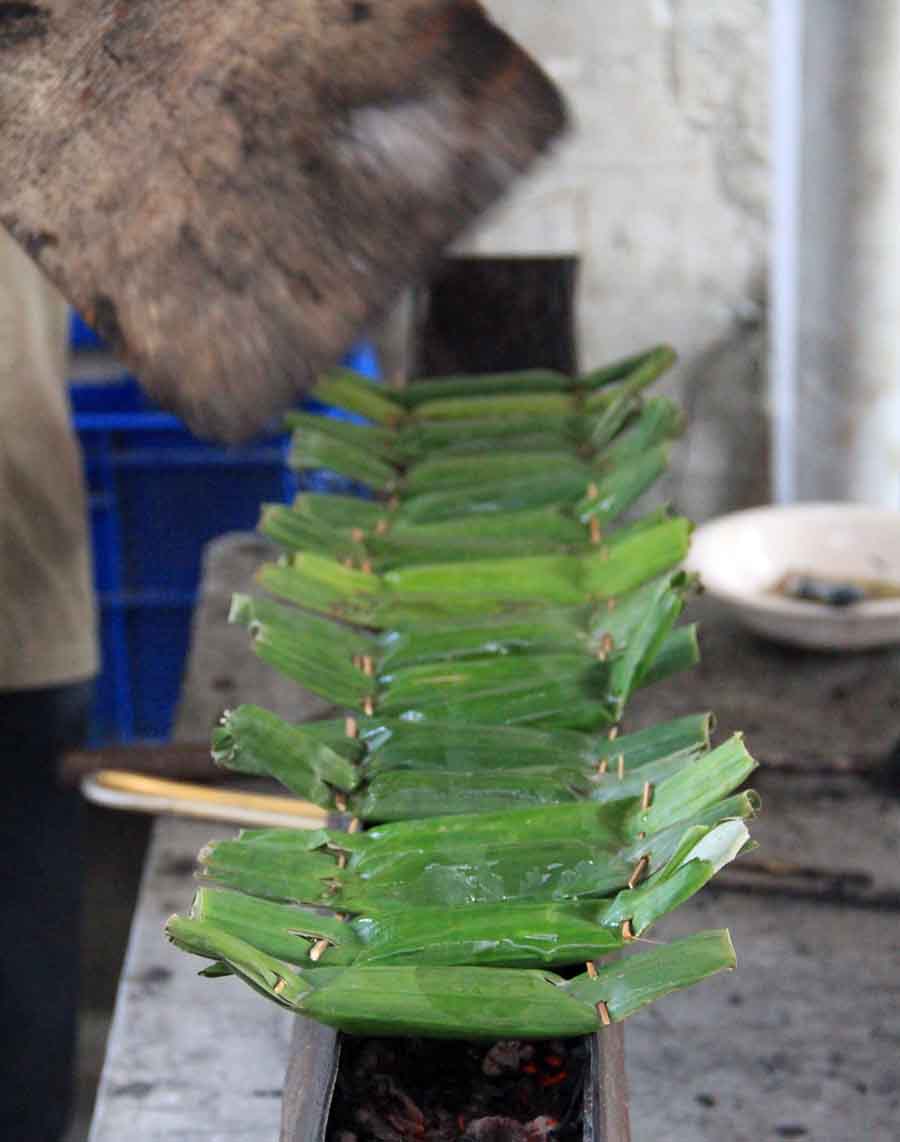 Pepesan ikan
Grilled fish in banana leaves
Indonesians are masters at cooking fish. This photo was taken in Aceh where they are privy to an enormous variety of fish from teeny thread fish to all types of mackerel, mahi-mahi, shark and so on. Sardines, frigate tuna and Spanish mackerel are the main fish used for pepesan ikan, but you can experiment with any firm fish. Or try it with salmon – it's to die for! In lieu of banana leaves, wrap it in baking paper followed by an outer layer of foil. And instead of grilling or steaming, the fish can also be baked in the oven.
Spice paste:
3 red shallots or 1/4 onion, roughly chopped
6 garlic gloves
4 long red chillies, seeds discarded and roughly chopped
2 small red chillies, chopped
2 lemongrass stalks, roughly chopped
2 tablespoons chopped galangal
3 teaspoons chopped fresh turmeric
2 teaspoons chopped ginger
2 tomatoes, roughly chopped
3 candlenuts
1/2 teaspoon shrimp paste
2 teaspoons tamarind pulp, soaked in 3 tablespoons of water and strained
2 teaspoons coriander seeds
1 tablespoon grated palm sugar
600 g firm fish fillets, cut into short, fat fingers of roughly 2 x 4 cm
2 tablespoons oil
4 kaffir lime leaves, rolled into a bundle and finely shredded
2 tablespoons fried shallots
1–2 teaspoons sea salt
banana leaves
salam leaves
Pound the spice paste ingredients to a smooth paste in a mortar or blitz in a food processor.… Read More

I am in a taxi driving through the back streets of Jogjakarta past candy-coloured houses, warungs fringed with sunsilk satchets flapping in the sun, free-range goats grazing on dirt, grandpas chatting on rickety bamboo chairs, head-scarfed school girls and rice-fields.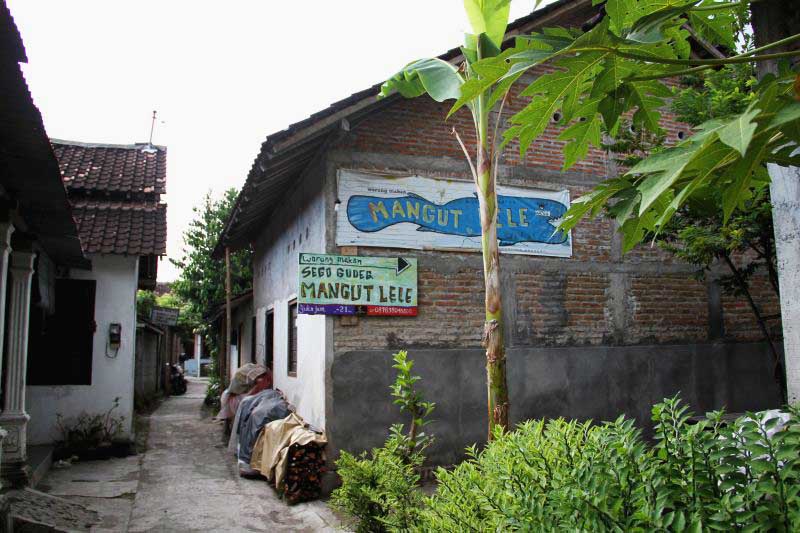 … Read More

Posted on February 28th, by janet in
Uncategorized
.
Comments Off on A Thirst for Balinese Coffee
It's no secret that I love Balinese coffee and for nearly thirty years my day has began with a strong cup of it. A heaped teaspoon of ground coffee topped with boiling hot water, tubruk-style, is the way I like it. While the global thirst for coffee is brewing out of control, a cup of Bali's deeply aromatic and richly flavoured single origin beans is more satisfying to me than any latte-arty frothy concoction. Most Balinese I know start their day with it: strong, hot, sweet and black, maybe served with fried bananas or jaja kukus, sticky rice cakes.
---