04 May

Long-table dinners at Honeymoon Guesthouse

It's on again! My long-table dinners at home celebrating some of my favourite Balinese food will be held during the month of July. Recipes from my cookbook,

Bali:The Food of My Island Home

, will be featured, made fresh from my own kitchen, using organic local produce where possible.

Dinner will be followed by a range of luscious desserts. Every Saturday in July we will gather upstairs at Honeymoon Guesthouse, while the sun descends over Jalan Bisma, to enjoy a feast of champions. To book, please contact:

reservations@casalunabali.com

.

One of my most cherished desserts, Black Rice and Tangerine Tart, will be on the menu. Here is the recipe: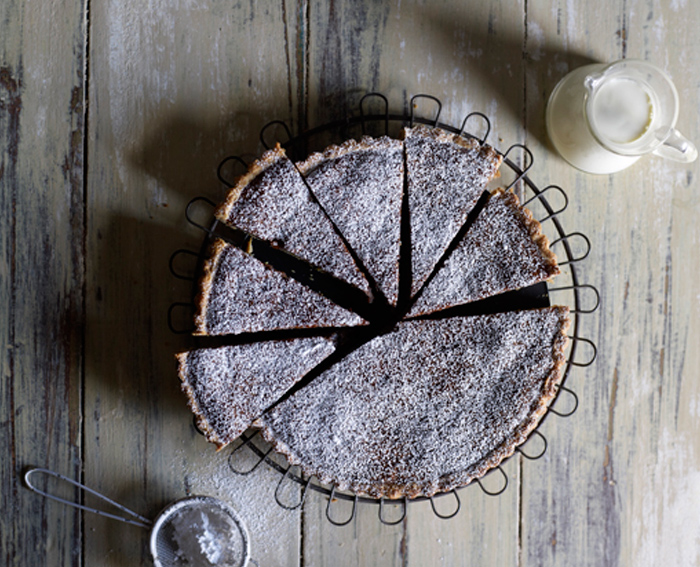 Black Rice and Tangerine  Tart
This unusual dessert combines the classic ingredients of black-rice pudding with a few elegant surprises. The rice is cooked with coconut milk and blended to a velvety puree; the grated tangerine adds an uplifting citrus kick without overpowering; and the ground almonds add body. If you are longing for a different sort of tart with a seductive filling, then this is for you. I would serve this with a jug of clotted cream as I am a shameless cream lover, but you might also like to carry on the citrus theme and serve it with orange ice-cream or preserved orange peel. You can even forego the pastry entirely and serve it as Asian-inspired pannacotta with a teeny scoop of bitter chocolate gelato.
FILLING
1/3 cup black rice
4 tablespoons white rice
750 ml Kara coconut milk
1 tablespoon butter
3 teaspoons grated tangerine or orange zest
1/2 teaspoon vanilla
2 tablespoons caster sugar
50 g (1/2 cup) ground almonds
1 tablespoon plain flour
3 large eggs PASTRY
225 g (1 ½ cups) plain flour
1/3 cup grated palm sugar
75 g (1/3 cup) caster sugar
1/2 teaspoon salt
1 teaspoon baking powder
1/2 teaspoon vanilla
2 teaspoons grated orange zest
145 g chilled unsalted butter, roughly chopped
3 tablespoons cold tap water
1 pandan leaves, tied in a knot
icing sugar to dust
To make the filling: Place the black rice in a medium saucepan with the pandan leaf and cover with roughly two finger joints or five centimeters of water. Bring to the boil and cook uncovered for at least 1 hour, until the rice is soft but still chewy (you may need to top up the water during cooking). Add the white rice and cook for another 20 minutes. Allow the water to evaporate without topping it up towards the end. While the rice is cooking, make the pastry.
To make the pastry:Put the flour, 1 tablespoon sugar, salt, baking powder, vanilla and orange zest in a food processor and blitz to combine. Add the butter and pulse 3–4 times, until the butter is in pea-sized pieces. Sprinkle in the cold water and pulse another 4 times. Tip the crumbly mixture onto a lightly floured work surface and form it into a dough. Knead briefly, then shape it into a disc. Cover in plastic wrap and refrigerate for at least 1 hour.
When the rice is cooked, drain off any excess water if necessary. Add the coconut milk, butter, 1/2 cup sugar and remaining salt. Bring the rice back to the boil, then reduce the heat to low and simmer for about 25 minutes, until the rice is almost a creamy risotto. Put the saucepan into a large bowl of iced water for 10 minutes to cool the rice to tepid. Pour the rice into a food processor and blitz to a puree. Pour into a large bowl and stir in the zest, vanilla, ground almonds and flour. Stir in the eggs one at a time, mixing well.
Preheat the oven to 180°C and butter a 25 cm springform cake tin. Roll out the chilled dough on a lightly floured surface to a thin circle about 30 cm in diameter. Lay it inside the tin, covering the base and going up the sides. Trim the excess pastry flush with the top of the tin. Refridgerate for ten minutes. Pour the rice filling into the pastry base. Bake on the lowest shelf of the oven for at least 35 minutes, until the filling is set and golden. Leave to cool on a wire rack. Dust with icing sugar before serving. Serves 10–12