19 Jul

Long-table Dinners | July 2013

What a lovely evening. Our first long table dinner for the season. The atmosphere was glowing in that glorious Balinese candle-lit way. Wines were poured, food was served and conversation flowed. And everything was delicious! The menu, many of my favourites; prawns and coconut in banana leaves, braised chicken with gingers, cucumber in coconut milk, tempe in tomato sambal, Sumatran-style noodles, jackfruit curry, acar salad and sambals. Dessert, one of my favourites, sago pudding with palm sugar topped with a generous scoop of vanilla bean ice cream.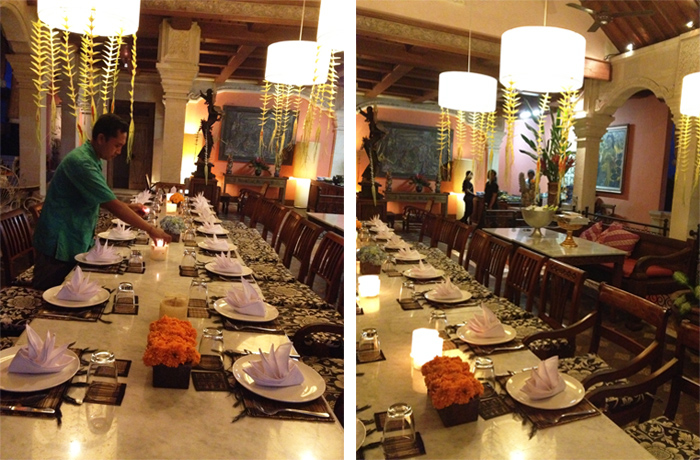 Tempe Sambal Penyet
Tempeh sambal
Tempeh is one of the cheapest sources of protein in Indonesia.  It is higher in protein, vitamins and dietary fibre than tofu because it is made of whole soy beans as opposed to soy milk. The fermentation of the beans also increases its nutritional value and makes it is easier to digest than tofu. Tempeh has an irresistible nutty flavour and wonderful chunky texture, and in our household we eat it nearly every day. This is a popular way to serve it.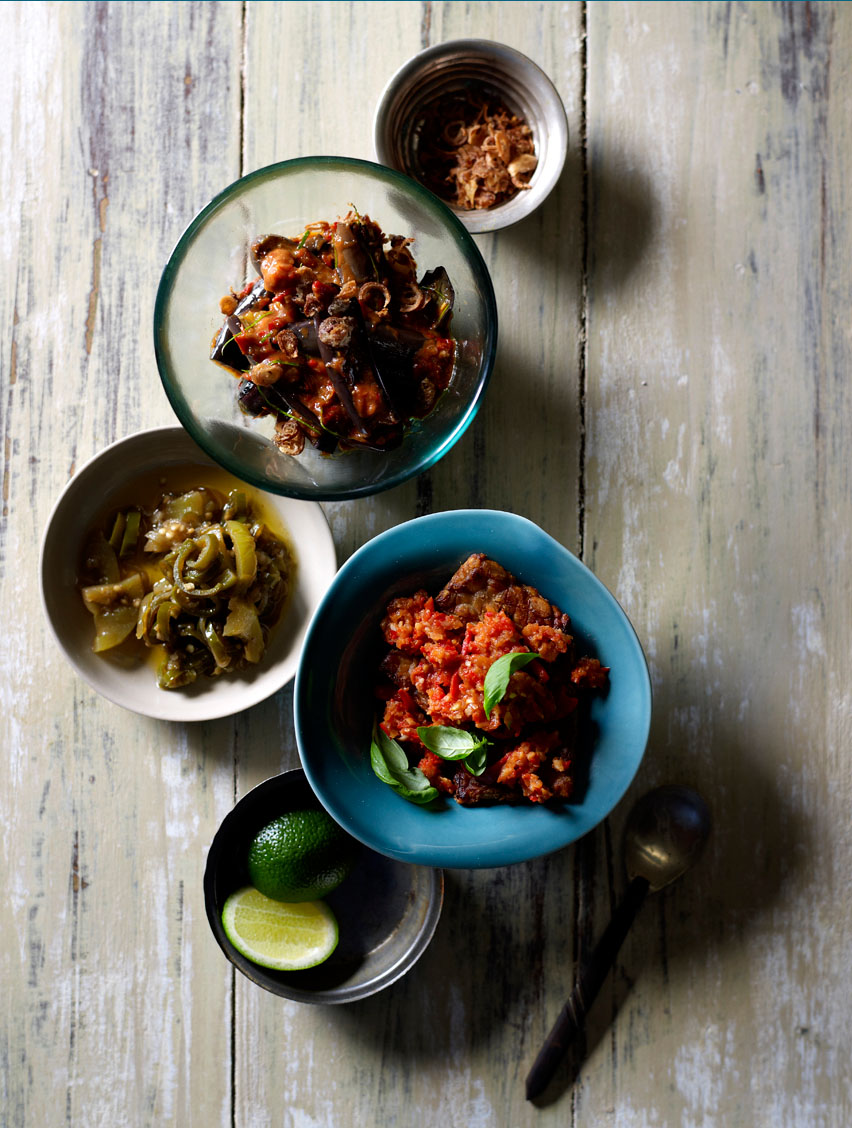 Fried tempeh
300 g tempeh
2 garlic cloves, crushed
2 teaspoons coriander seeds, ground
2 teaspoons sea salt
250 ml water
125 ml oil
3 long red chillies, seeded and sliced
2 small red chilies, thickly sliced
1 garlic clove
1 teaspoon chopped kencur
1/2–1 teaspoon shrimp paste, roasted
2 teaspoons raw sugar
1 medium tomato, roughly chopped
lemon basil leaves to garnish
Slice the block of tempeh in half horizontally to give two blocks. Cut in half again to give 4 pieces, roughly the size of a fat business card. Cut crisscross lines across the tempeh, one side only.
Combine the garlic, coriander, half the salt and water in a bowl. Add the tempeh pieces and marinate for an hour or two.
Heat the oil in a wok over medium heat.  Drain the tempe and pat it dry. Fry the tempeh in batches, two pieces at a time, until golden brown. Drain and set aside.
In the remaining oil, quickly fry the chillies for 20 seconds, then scoop from the oil and put into a large mortar. Remove the wok from the heat.
Place the shrimp paste on a piece of foil and grill or broil until charred. Add to the mortar along with the chillies, garlic, kencur, remaining salt and pound until smooth. Add the tomato and pound to a chunky salsa. Taste for a good balance of flavours and adjust if necessary.
Add the fried tempeh to the mortar and pound gently with the sambal for a second or two, keeping the shape of the tempe. Garnish with lemon basil leaves and serve in the mortar.
Serves 4