15 Sep

RECIPE OF THE WEEK | Sambal tomat

If you only make one dish from this cookbook, let this be the one! Tomato sambal can be used to accompany a thousand dishes from Indonesia to the Mediterranean. Try it with eggs in any shape or size, grilled fat sausages, fish or any meat, roasted eggplant, tofu or tempeh – not to mention stirred into risotto or homemade mayonnaise or basted over barbecued prawns. It keeps for weeks in the refrigerator and will turn the dullest meal into a masterpiece.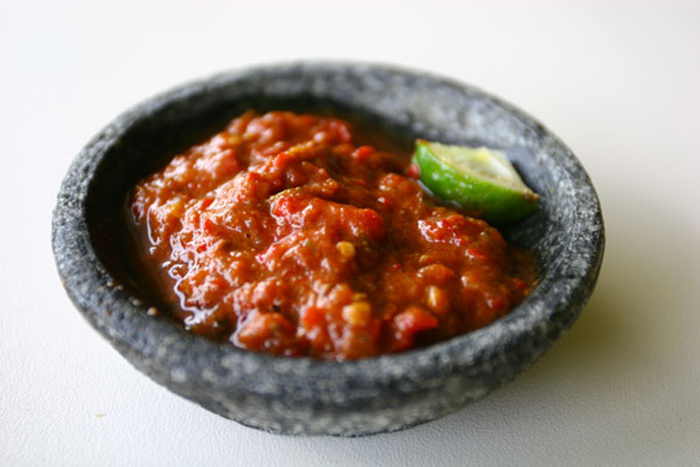 4 long red chillies, seeded 2–3 small chillies
3 red shallots
6 garlic cloves
3 medium tomatoes, roughly chopped 1 teaspoon shrimp paste
4 candlenuts
sea salt
80 ml oil
fried shallots to serve lime wedges to serve
Blitz the chillies, shallots, garlic, tomatoes, shrimp paste, candlenuts and salt to taste in a food processor until the mixture resembles a tomato salsa or chunky tomato soup.
Heat the oil in a wok over medium heat. Fry the tomato mixture until it reduces by nearly half and the oil rises to the surface, which will take at least 5 minutes. If the sambal looks dry, add more oil (it's not worth skimping on oil in this recipe, as it makes the sambal full-bodied and seductive). Taste for salt, adding more if needed. Serve topped with fried shallots and with wedges of lime.