25 Jan

RECIPE OF THE WEEK | Javanese tofu and scallop curry (Opor tahu dan scallops)

Opor, a dish from central Java, is usually described as a white curry. However this description does not do justice to dishes' dreamy and alluring flavours of galangal, ginger and lemongrass combined with mild green chillies. For me, opor is the quintessential Javanese dish: subtle, creamy and aromatic. In this modern interpretation I have selected scallops to partner tofu, to create what I think it a supremely elegant curry. It's the kind of meal to serve your girlfriends for lunch, on a day when you have plenty of time and loads to chat and giggle about – alongside free-flowing bubbly of course!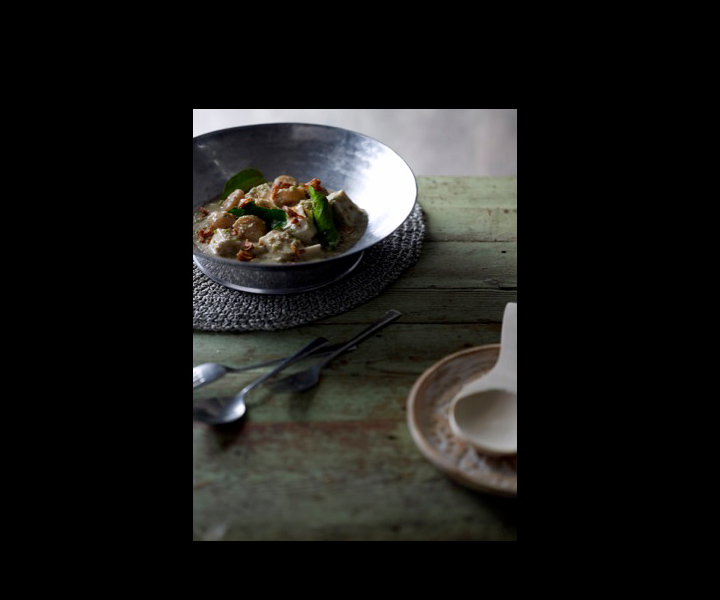 8 scallops
1 teaspoon tamarind pulp soaked in 2 tablespoons of water, strained 3 tablespoons oil
100 g tofu, cut into a size to match the scallops
2 lemongrass stalks, bruised and tied in knots
3 salam leaves
3 kaffir lime leaves
250 ml coconut milk
2 tablespoons fried shallots
2 teaspoons grated palm sugar
sea salt
SPICE PASTE
3 red shallots, roughly chopped
4 garlic cloves
2 long green chillies, roughly chopped 2 small green chillies, roughly chopped 3 tablespoons chopped galangal
1 tablespoon chopped ginger
5 candlenuts
3 teaspoons coriander seeds
1/2 teaspoon white pepper
1/2 teaspoon cumin seeds
1/2 teaspoon shrimp paste
Mix the scallops with the tamarind water and set aside.
Pound the spice paste ingredients to a smooth paste in a mortar, or blitz in a food processor with a little water if necessary to get the mixture moving.
Heat the oil in a wok over medium heat and fry the spice paste for 30 seconds.
Add the lemongrass, salam leaves and lime leaves and fry for another 20 seconds, until glossy and fragrant. Strain the scallops and throw them into the wok. Toss them around until seared, then add the tofu and toss gently for a few more seconds. Add the coconut milk, fried shallots, palm sugar and some salt and simmer gently for a minute, until slightly thickened. Taste for seasoning and serve with steamed rice.
Serves 4
Discover more recipes in my book Bali: Food of My Island Home