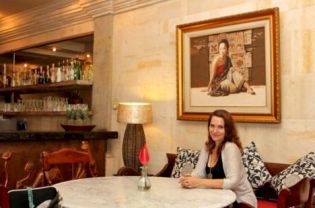 10 Nov

Bakmi Mania

I'm crazy about mie. Not mie as in me but mie as in Bakmi. I confess I am not an expert and I only like bakmi ayam, but, hey, that's ok. I can think of worse addictions.

The secret is in the unctuous, full-flavoured, sweetly meaty, slow-brewed chicken stock . Then there is the quality of the noodles. Homemade are best and they should be not too fat, not too slender, somewhere between Hong Kong and Udon, and cooked al-soft-dente. From what I have seen, most mie sellers have the stock on a constant roll so the flavour intensifies into golden, brothy, velvety heaven.

Bakmi Roxy, in Cikini Raya, is a favourite and with a punchy name like that, how can you go wrong? Bryan Ferry and "Let's stick together " always comes to mind. (Did you hear Jerry Hall is getting married again?) I love the simple charm of this food cart-meets-café noodle house, with its green-turquoise walls, soft orange pillars and plastic furniture. Established in 1991, they now have about five branches in Jakarta and serve my idea of chicken noodle perfection. But what I love most is the chunky, moist, coarsely chopped meat that sits on top of the noodles. It creates this thigh-rich journey that dark meat chicken lovers like me adore. I notice that white pepper and a few drops of chilli oil are first poured into the bowl, followed by noodles, Chinese greens and the all-important chopped chicken. Served with bakso ayam, chicken broth with chicken meatballs, and pangsit rebus, it is sheer perfection.

Bakmi Boy in Jakarta is legendary. I visit the branch in Mayestik that is comfortably squeezed between hundreds of fabric stores (good thinking BB!) We arrive early to beat the mother's lunchtime frenzy. No painted walls, cute posters or fancy lights. Bakmi Boy is no-frills par excellence or maybe it's minimalist. The only careful branding is the sambal on every table that live in recycled coca-cola bottles but my noodles are sublime and I am not surpised! I detect a hint of ginger, cinnamon and that dazzling show stopper, Star Anise, in the prized stock. We opt for a plate of tostada-crisp pangsit, fried wontons, to complete the dish. Grandpa Bakmi Boy, or Bakmi Grandpa, is in the kitchen, leaning over a huge pot of boiling stock and supervising service. No photos I'm told. Grandma Bakmi Boy, or Bakmi Grandma, is the cashier. Maybe the secret of these long-running businesses is a lifelong commitment and I lament the thought of no early retirement from Casa Luna.

Bakmi GM is a noodle institution offering the usual suspects, as well as, some creative interpretations with snappy, efficient service. My favourite is Bakmi Spesial GM Pangsit Goreng but they have an interesting range to choose from. This is fast food noodle bliss with images to select and noodles served in boxes on trays. When I can't get a flight to Bali on Garuda, and am forced to take another airline (sigh) I head straight for Bakmi GM. Might as well eat and be happy.

Warung Lele, or Wale, in Dago, Bandung, is another noodle nirvana and gets the coveted cute award. But then, this is Bandung, where art is a way of life. Located in a cosy joglo with a view of the rambling countryside, people come from near and far to sip and slurp on their specialties. I opt for the Yamin Baso, my regular of mie ayam with bakso ayam. Finely shredded chicken replaces the glossy chunks of meat with an elegant toss of sliced spring onion alongside the Chinese greens. I notice other dishes, such as, ayam rica-rica with noodles or mushrooms, but I'm a noodle "purist" and only like mine the old-fashioned way. I watch the staff swirling the chilli oil and white pepper through each bowl of noodles with chopsticks, before loading them up with Chinese greens, meat and spring onion. Fastidious attention obviously pays off, because the place is jam-packed. My noodles are glorious and the overall experience is one of the highlights of my recent trip to Bandung (that's another story).

Bakmi, and bakso, is perhaps Indonesia's all-time favourite comfort food. Essentially Chinese, it has been embraced by an entire nation and can be found in every corner of the archipelago. And it has wheels! Grobak and now, Go-jek, bring it straight to your door. But the name says it all. It is often branded with a youthful, playful, masculine spirit that suggests even rock stars love mi. So that's it. I have decided to open my own Bakmi noodle house and call it Bakmi Bowie. Let's Dance!

-originally published for Garuda's magazine, March Edition.