15 Oct

RECIPE OF THE WEEK | Black-rice pudding – Bubur injin

Black rice pudding is one of Bali's most famous desserts that, once upon a time, used to feature on the breakfast menu of most simple guesthouses around the island. Traditionally served as an in-between snack, it's glossy blackness and almost chocolatey flavour makes it both intriguing and alluring. Mornings or afternoons, you can usually find black rice pudding on sale at simple food stalls at local markets, along with other syrupy porridge-like treats. These comforting dishes are the domain of mothers and grandmas who are the experts of all that is "sugar and spice and everything nice."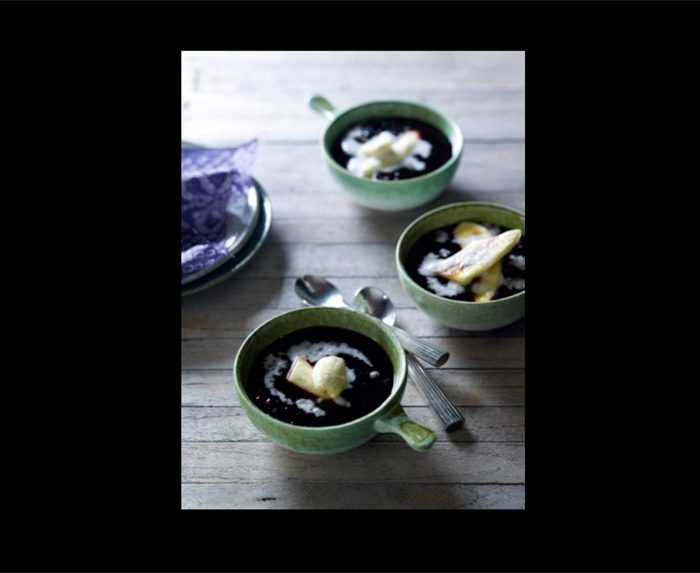 My sister-in-law, Karsi, taught me how to make Black rice pudding and walked me through the subtleties of achieving the perfect flavour and consistency. She liked to serve it mixed with tiny pieces of ripe jackfruit. I love it best served with sliced bananas on top. In Bali, a little white rice is cooked with the black rice to create a more interesting texture, a little softness to contrast with the chewiness of the black grain. And the final layer of smoky, roasted coconut adds another divine element.
1/2 cup black glutinous rice
2 tablespoons glutinous white rice or regular white rice 1 pandan leaf (1 tsp pandan essence)
1 vanilla pod, split or 1 teaspoon vanilla extract
1 teaspoon sea salt
200 g palm sugar, grated
ROASTED COCONUT MILK 500–750 ml coconut milk pinch of sea salt
Soak the black rice in a bowl of water for a minimum of 6 hours. Stir in the white rice and leave for another 2 hours.
Tip the rice and water into a large heavy-based saucepan and add extra water to cover the rice by 10 cm. Add the pandan leaf, vanilla pod and salt and bring to the boil. Reduce the heat to a simmer and cook uncovered until most of the water has evaporated and the rice is soft enough to eat, with a texture like soft brown rice. This should take at least 1 hour, and you might need to top up the water during cooking. When the rice is cooked, stir
in the palm sugar and continue to simmer over low heat until the sugar has dissolved and the mixture is thick and glossy. Check the flavour.
To serve, spoon the rice into bowls and top with the coconut milk, fruit and toasted coconut. Or serve it with coconut panna cotta.
Serves 4–6