30 Mar

Hunting Catfish in Jogjakarta

I am in a taxi driving through the back streets of Jogjakarta past candy-coloured houses, warungs fringed with sunsilk satchets flapping in the sun, free-range goats grazing on dirt, grandpas chatting on rickety bamboo chairs, head-scarfed school girls and rice-fields.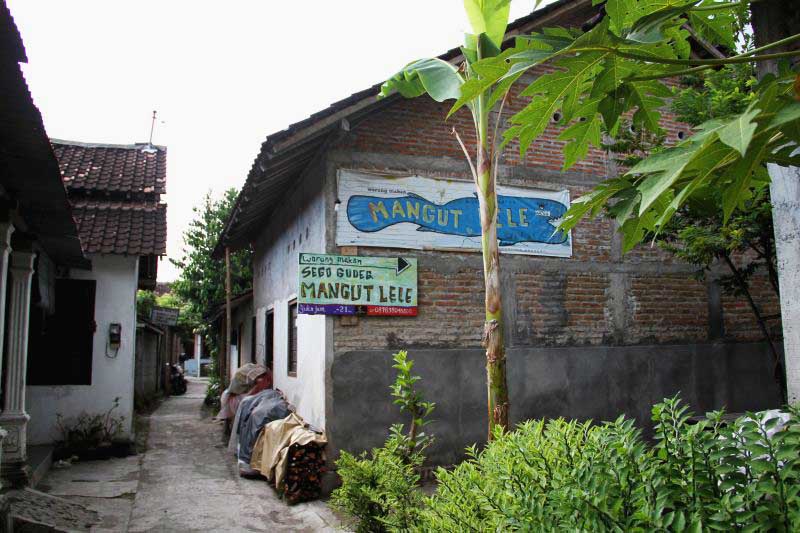 We arrive at a desolate laneway that leads to a small sign, Ikan Lele Mangut Mbah Marto.
I've been told this restaurant is unique but it looks more like someone's abandoned home. I wander inside and a tiny grandma appears who I guess is Mbah Mangut. She sees me, covers her face and runs away. Intrigued, I'm directed to the back of the house by a young boy and enter a dim, medieval-style kitchen, bricks blackened by years of cooking Mbah Marto's famous cat fish over a rustic open wood-fired oven.
A small window let's in shafts of smoky light spotlighting a cast of characters who are busy stirring and cooking. I'm feeling like I'm on the set of Lord of the Rings. Grandma number two, who's crouched on the floor grinding spices, sees me and also covers her face. I'm feeling a tad self-conscious by now.
Help yourself, says a young woman who is reclining lazily on a bench seat against the side wall. An open buffet of ikan mangut lele, cat-fish fried in chilli and tomato, chicken, tempe and tofu in opor-style coconut milk and beef skin with cassava leaves lies is spread on a bamboo slatted bed. I help myself as instructed, enjoying this dinner party feeling, except I'm minus the friends.
Sitting on the front porch, I dig into a surprise of flavours; the meaty, smoky, chilli-fishiness of catfish, galangal-scented coconut-milky nutty tempe that I'm crazy about and gently spiced cassava leaves with glistening cow skin (a local favourite). That there is an eatery like this on the planet is remarkable and the honesty of this home-cooked meal, ingested with eccentric grandma kitchen theatre, is hard to beat.