Posted on January 25th, by janet in
Food
,
Recipes
,
Written Articles
.
Comments Off on RECIPE OF THE WEEK | Javanese tofu and scallop curry (Opor tahu dan scallops)
Opor, a dish from central Java, is usually described as a white curry. However this description does not do justice to dishes' dreamy and alluring flavours of galangal, ginger and lemongrass combined with mild green chillies. For me, opor is the quintessential Javanese dish: subtle, creamy and aromatic. In this modern interpretation I have selected scallops to partner tofu, to create what I think it a supremely elegant curry. It's the kind of meal to serve your girlfriends for lunch, on a day when you have plenty of time and loads to chat and giggle about – alongside free-flowing bubbly of course!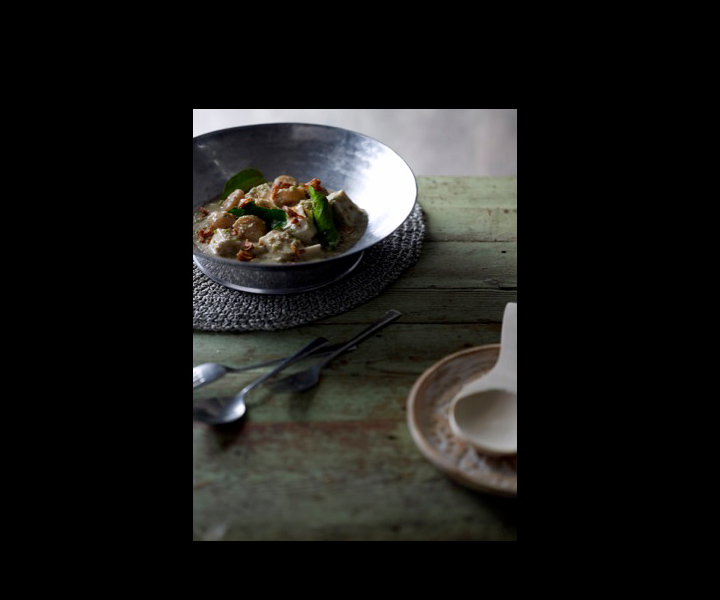 8 scallops
1 teaspoon tamarind pulp soaked in 2 tablespoons of water, strained 3 tablespoons oil
100 g tofu, cut into a size to match the scallops
2 lemongrass stalks, bruised and tied in knots
3 salam leaves
3 kaffir lime leaves
250 ml coconut milk
2 tablespoons fried shallots
2 teaspoons grated palm sugar
sea salt
SPICE PASTE
3 red shallots, roughly chopped
4 garlic cloves
2 long green chillies, roughly chopped 2 small green chillies, roughly chopped 3 tablespoons chopped galangal
1 tablespoon chopped ginger
5 candlenuts
3 teaspoons coriander seeds
1/2 teaspoon white pepper
1/2 teaspoon cumin seeds
1/2 teaspoon shrimp paste
Mix the scallops with the tamarind water and set aside.


Posted on October 24th, by janet in
Food
,
Recipes
,
Written Articles
.
Comments Off on RECIPE OF THE WEEK | Balinese Beef Rendang – Rendang Sapi
In keeping with Hindu dietary restrictions, beef is seldom served in a Balinese household. That doesn't mean it's forbidden though! Meat in Bali, is always cooked with a pile of fresh spices that tenderize, preserve, uplift and nurture. It's also about aiding digestion and a dash of tamarind, a few sprightly gingers and lemongrass will always help that process.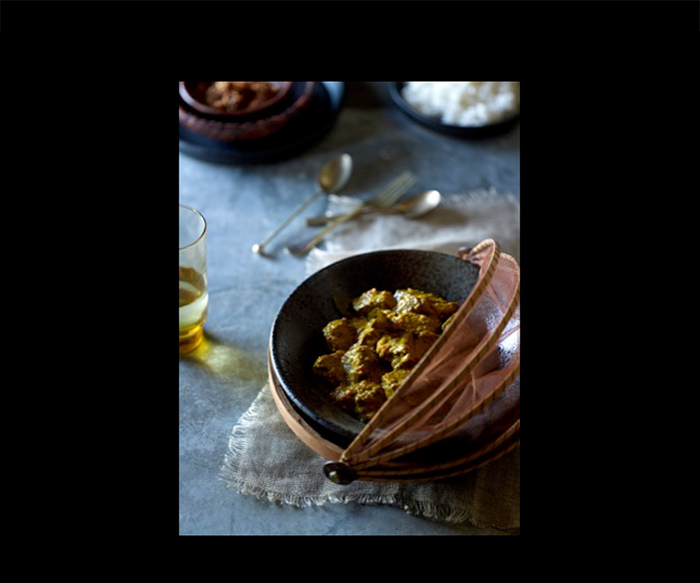 This recipe is a Balinese version of rendang and spotlights the acclaimed trio of galangal, turmeric and ginger, that constantly feature in Indonesian cooking. It has all the virtues of a slow-cooked stew; comforting, full of flavour, tender and deeply aromatic. It is also a joy to cook as the aroma that floats around the house, while the curry is simmering in the pot, is glorious.

One of Indonesia's national treasures, and also found in Malaysia and Singapore, rujak, is the ubiquitous afternoon snack. When the sun starts its descent and the heat of the day starts to dull the brain, just about every Balinese I know tucks into this action-packed fruit salad with a savoury dressing that is guaranteed to slap you out of a tropical slump.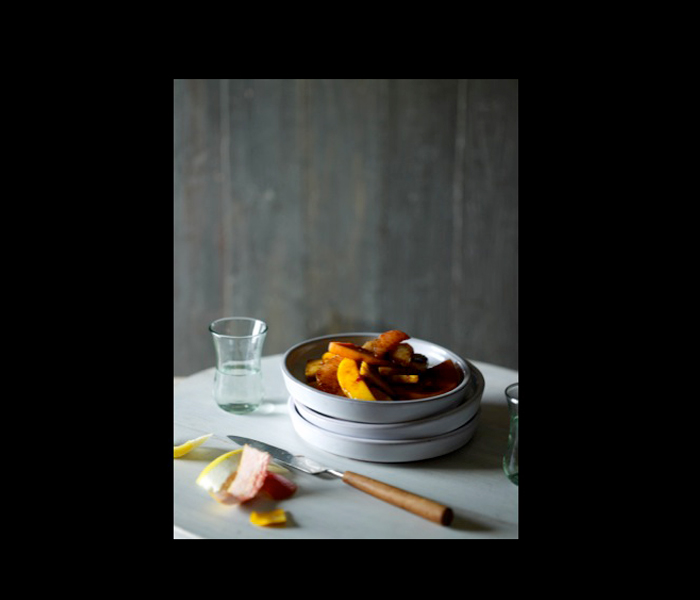 It combines the energizing four pillars of Asian cooking: sweet, sour, spicy and salty, and it clears the mind, refreshes the palette, speeds up the metabolism and offers a generous dose of vitamin C, iron, folic acid and calcium. Pregnant women crave its strong flavours, and rightly so.
As soon as my children are home from school, they feast on rujak mixed with any amount of seasonal fruit.
---