Posted on January 23rd, by janet in
Recipes
.
Comments Off on RECIPE OF THE WEEK: Gado Gado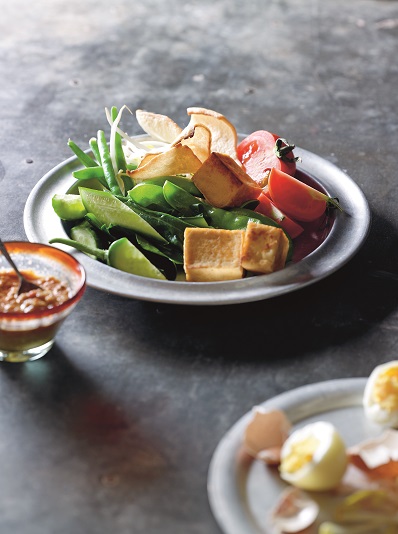 Another Indonesian dish that varies from island to island. In Bali, Gado-Gado or jukut mesantok, as it is known in Bali, consist of spinach, bean sprouts, snack beans, tofu and rice cake. It is served in small warungs or sold by street vendors, who mix the sauce to order using a large mortar and pestle. It is then tossed with the vegetables and served in a banana leaf. In Java, Gado-Gado is served with a wider variety of vegetables, often including potato and cabbage. Therefore, the choice is yours.
Allow 200 grams of vegetables per person…..
Bean sprouts, spinach, beans, potato, broccoli, cauliflower
Cabbage, carrot, snow peas, cucumber, tomato wedges
Fried tempe or tofu, hard-boiled egg
Peanut sauce
Quartered or finely sliced krupuk udang (prawn crackers) or krupuk emping
Prepare the vegetables by boiling, steaming, and so forth.Slice  into bite-sized pieces or any manner you prefer and arrange on a platter, either in layers or mixed.… Read More

Posted on November 6th, by janet in
Written Articles
.
Comments Off on RECIPE OF THE WEEK | Coconut Pannacotta
30gm white sugar
1⁄4 cup water
1 1⁄4 cup coconut milk
1 leaf of titanium strength gelatine or 2 teaspoons gelatine 2 fat pieces orange rind, grated
1 teaspoon vanilla extract
2 pandan leaves, tied together in one knot
400ml whipping cream
Place the cream in a large bowl and set aside. Dissolve the sugar with the water over a low flame in a heavy-based saucepan. This will only take a few minutes. Add to the dissolved sugar, the grated orange rind, vanilla, pandan leaves and coconut milk. Over a low flame cook gently for 15 minutes. Meanwhile soak the gelatine leaf in cold water for 5 minutes or until softened.

Posted on October 15th, by janet in
Food
,
Recipes
,
Written Articles
.
Comments Off on RECIPE OF THE WEEK | Black-rice pudding – Bubur injin
Black rice pudding is one of Bali's most famous desserts that, once upon a time, used to feature on the breakfast menu of most simple guesthouses around the island. Traditionally served as an in-between snack, it's glossy blackness and almost chocolatey flavour makes it both intriguing and alluring. Mornings or afternoons, you can usually find black rice pudding on sale at simple food stalls at local markets, along with other syrupy porridge-like treats. These comforting dishes are the domain of mothers and grandmas who are the experts of all that is "sugar and spice and everything nice."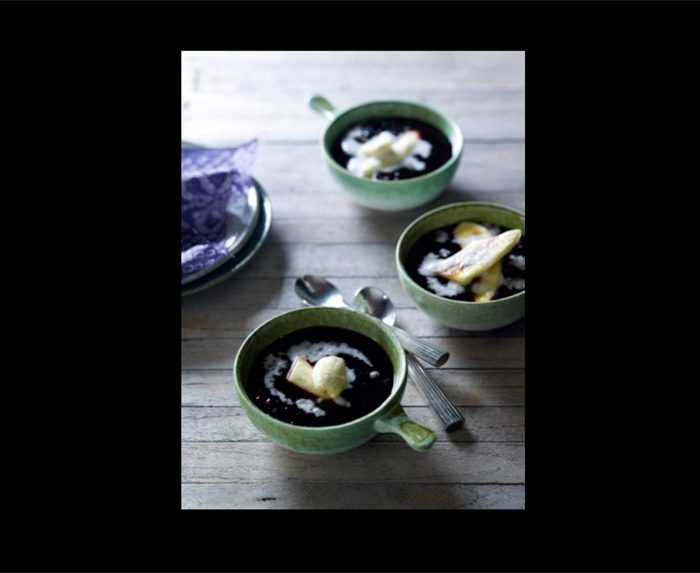 My sister-in-law, Karsi, taught me how to make Black rice pudding and walked me through the subtleties of achieving the perfect flavour and consistency.
---