This is one of the many barbecued dishes that are served by the sea at Jimbaran. In what was formally a rustic coastal eating place dotted with simple grass huts, there are now hundreds of bamboo tables and chairs perched on the sand, and tonnes of seafood being served, from prawns to lobster and snapper to squid, for eager tourists. The secret at Jimbaran is cooking the seafood over coconut husks for a delectable smokiness, and the moist heat of the husks creates tender meat with glazed and burnished skin without dryness. If you are flying into Denpasar at night, the smoke from the barbecues at Jimbaran bay looks like an enormous bushfire.

Posted on October 3rd, by janet in
Food
,
Recipes
,
Written Articles
.
Comments Off on RECIPE OF THE WEEK | Green fried rice – Nasi goreng hijau
Perhaps Indonesia's national dish, nasi goreng is enjoying a curious renaissance, appearing in all shapes and sizes across the archipelago in oh-so creative combinations of meats, herbs and garnishes. If you wander through the food courts of Indonesia's glam shopping malls, you will see modern reinterpretations of it wherever you look. I recently found this particularly delicious nasi goreng on my travels in Jakarta. However, in the spirit of nasi goreng, feel free to add what you like (providing it tastes good!) as nasi goreng is all about experimentation.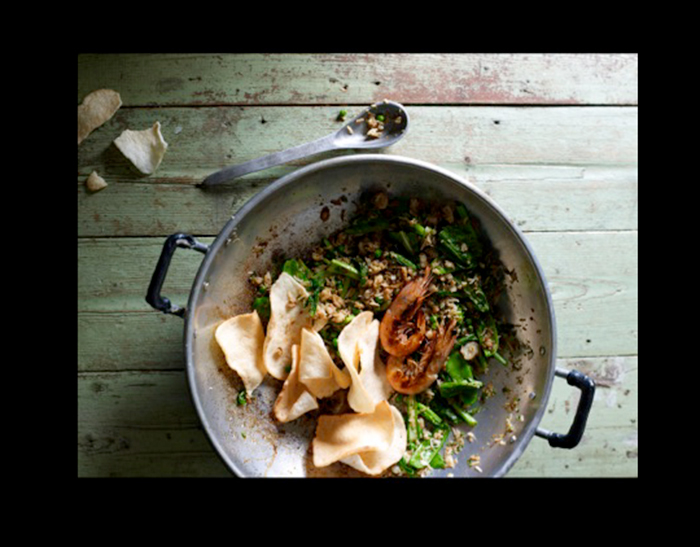 SPICE PASTE
2 red shallots or 1⁄2 onion, finely chopped 6 garlic cloves, finely chopped
2 large green chilli, sliced
2 small green chillies, sliced (optional) 1/2 teaspoon shrimp paste
2–3 tablespoons vegetable oil
3 tablespoons finely chopped leek
120 g shelled raw prawns, finely chopped
3 kaffir lime leaves, rolled into a bundle and finely shredded 11/2 cups chopped choy sum or bok choy
1/4 cup snow peas, blanched
1/4 cup peas
1 teaspoon kecap manis
1/2 teaspoon fish sauce
3 teaspoons oyster sauce
1 cup cooked rice
2 tablespoons chopped lemon basil
sea salt and freshly ground black pepper
fried shallots to serve
1 grilled extra-large prawn to serve
large krupuk to serve
Put the spice paste ingredients in a mortar and pound to a smooth paste, or blitz in a blender.
---