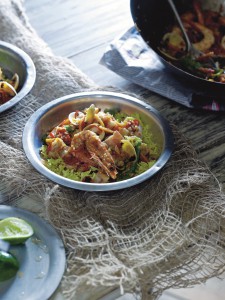 So here it is! Casa Luna's signature dish, which was inspired by – you guessed it – a trip to
Spain. I devoured paella nearly every day when I visited in 1991, and in Madrid in the
midst of probably my tenth version, I had an epiphany, or rather one of those 'what's all
the fuss about this dish' moments, and realised I could create a superb Balinese paella
adding a little mystique of the spice islands.
Our paella is an elegant celebration of seafood as well as a meeting of Bali and the
Mediterranean – the flash of the flamenco is introduced to the shimmer of the legong,
Bali's famous traditional dance.… Read More

25 Nov-3 Dec
Early Bird Ends 31 Aug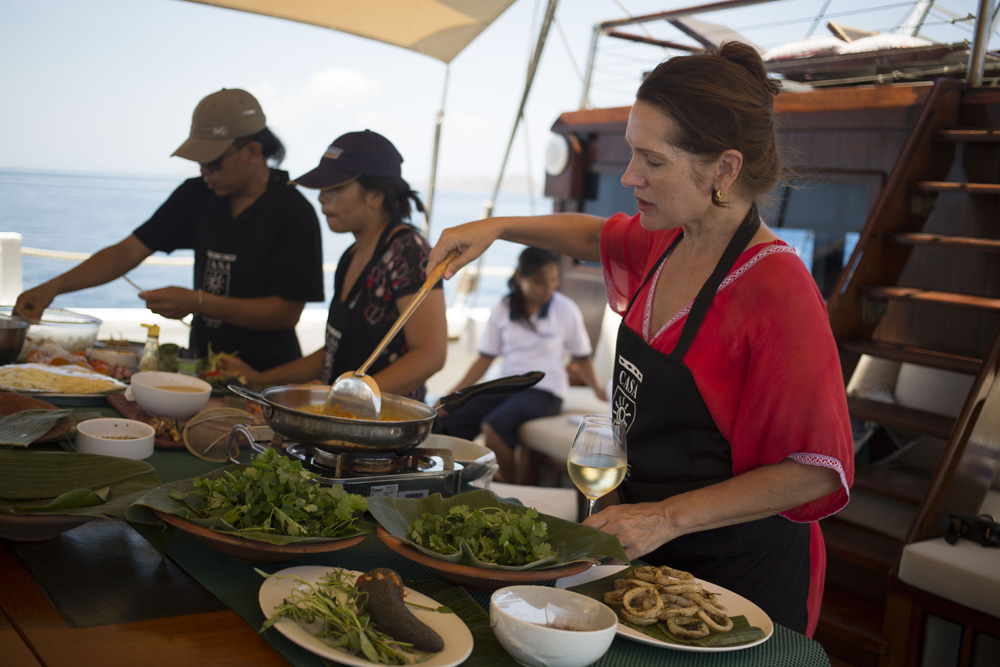 It's the year of the humble nutmeg and the Banda Islands. Join me on a cruise to the legendary spice islands and the island of Banda Neira and Run, inhaling history that changed the world, in between glorious Indonesian meals, trekking, snorkelling, swimming, and simply relaxing on pristine waters. Early bird special prices of AUD 3,900 ends 30 Aug. Deposit required. Contact pa@janetdeneefe.com for more information.

Posted on March 15th, by janet in
Food
,
Recipes
.
Comments Off on RECIPE OF THE WEEK: Black Rice Risotto with Salmon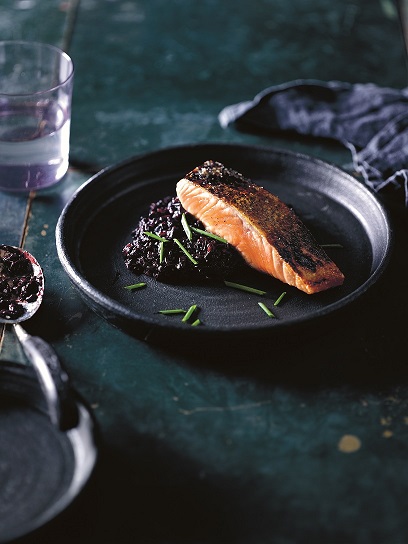 1 cup glutinous black rice, soaked overnight
3 tablespoons regular white rice, soaked for 1 hour
600 ml water
4 x 150 g Salmon fillets, skin on
Sea Salt
5 tablespoons butter
4 medium leeks, finely sliced
3 tablespoons seeded mustard
2 tablespoons lime juice
4 Kaffer lime leaves
500 ml chicken stock
Freshly ground black pepper
Vegetable oil
2 tablespoons cream
1 teaspoons greated palm sugar
2 tablespoons fried shallots
Chopped chives, to garnish
Strain the black rice and white rice and combine in a heavy-based saucepan. Add the water and bring the boil. Cook uncovered for 30 minutes, or until the black rice is a soft al dente and the water is absorbed or evaporated (you can add more water if the rice dries out before it is cooked)
Pat the salmon fillets dry.… Read More

Posted on January 23rd, by janet in
Recipes
.
Comments Off on RECIPE OF THE WEEK: Gado Gado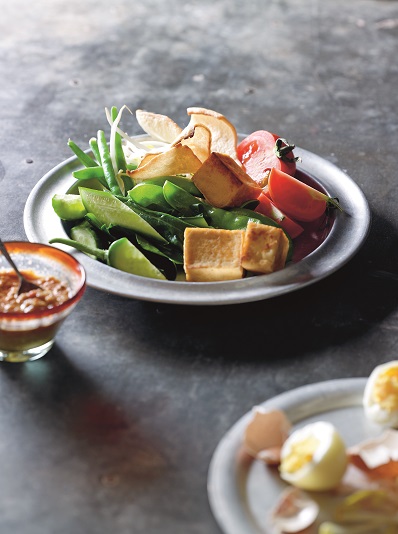 Another Indonesian dish that varies from island to island. In Bali, Gado-Gado or jukut mesantok, as it is known in Bali, consist of spinach, bean sprouts, snack beans, tofu and rice cake. It is served in small warungs or sold by street vendors, who mix the sauce to order using a large mortar and pestle. It is then tossed with the vegetables and served in a banana leaf. In Java, Gado-Gado is served with a wider variety of vegetables, often including potato and cabbage. Therefore, the choice is yours.
Allow 200 grams of vegetables per person…..
Bean sprouts, spinach, beans, potato, broccoli, cauliflower
Cabbage, carrot, snow peas, cucumber, tomato wedges
Fried tempe or tofu, hard-boiled egg
Peanut sauce
Quartered or finely sliced krupuk udang (prawn crackers) or krupuk emping
Prepare the vegetables by boiling, steaming, and so forth.Slice  into bite-sized pieces or any manner you prefer and arrange on a platter, either in layers or mixed.… Read More

Posted on January 25th, by janet in
Food
,
Recipes
,
Written Articles
.
Comments Off on RECIPE OF THE WEEK | Javanese tofu and scallop curry (Opor tahu dan scallops)
Opor, a dish from central Java, is usually described as a white curry. However this description does not do justice to dishes' dreamy and alluring flavours of galangal, ginger and lemongrass combined with mild green chillies. For me, opor is the quintessential Javanese dish: subtle, creamy and aromatic. In this modern interpretation I have selected scallops to partner tofu, to create what I think it a supremely elegant curry. It's the kind of meal to serve your girlfriends for lunch, on a day when you have plenty of time and loads to chat and giggle about – alongside free-flowing bubbly of course!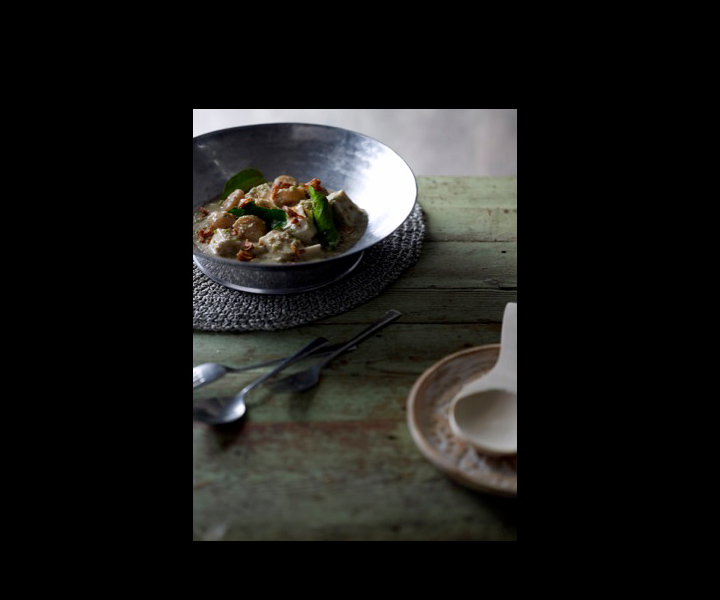 8 scallops
1 teaspoon tamarind pulp soaked in 2 tablespoons of water, strained 3 tablespoons oil
100 g tofu, cut into a size to match the scallops
2 lemongrass stalks, bruised and tied in knots
3 salam leaves
3 kaffir lime leaves
250 ml coconut milk
2 tablespoons fried shallots
2 teaspoons grated palm sugar
sea salt
SPICE PASTE
3 red shallots, roughly chopped
4 garlic cloves
2 long green chillies, roughly chopped 2 small green chillies, roughly chopped 3 tablespoons chopped galangal
1 tablespoon chopped ginger
5 candlenuts
3 teaspoons coriander seeds
1/2 teaspoon white pepper
1/2 teaspoon cumin seeds
1/2 teaspoon shrimp paste
Mix the scallops with the tamarind water and set aside.


Welcome to the New Year!
I hope that you have all had a restful and rejuvenating holiday period.
I have spent the festive season reflecting on the hidden joys and beauty to be found on the island that I am lucky enough to call home (while also enjoying a few too many succulent sate sticks!).
With an abundance of fresh produce including glorious spices, fragrant rice, cashews and coffee, Bali truly is a foodies paradise.
This year I want to tell you more about the magic of Bali and the stories behind the ingredients in my cooking. I will be sharing stories and images from Ubud and across Bali so that you can enjoy and appreciate¬ how fresh organic produce and local ingredients make their way into my kitchens.
---