The Blog

Posted on March 15th, by janet in
Food
,
Recipes
.
Comments Off on RECIPE OF THE WEEK: Black Rice Risotto with Salmon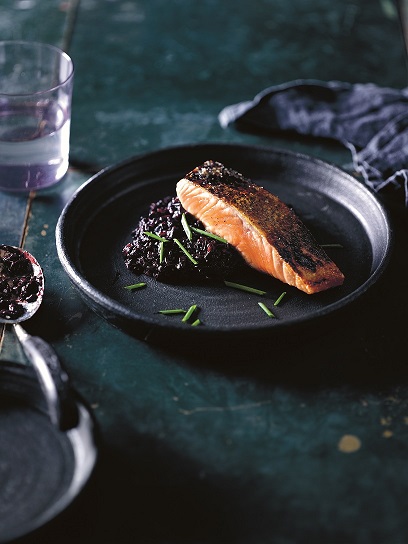 1 cup glutinous black rice, soaked overnight
3 tablespoons regular white rice, soaked for 1 hour
600 ml water
4 x 150 g Salmon fillets, skin on
Sea Salt
5 tablespoons butter
4 medium leeks, finely sliced
3 tablespoons seeded mustard
2 tablespoons lime juice
4 Kaffer lime leaves
500 ml chicken stock
Freshly ground black pepper
Vegetable oil
2 tablespoons cream
1 teaspoons greated palm sugar
2 tablespoons fried shallots
Chopped chives, to garnish
Strain the black rice and white rice and combine in a heavy-based saucepan. Add the water and bring the boil. Cook uncovered for 30 minutes, or until the black rice is a soft al dente and the water is absorbed or evaporated (you can add more water if the rice dries out before it is cooked)
Pat the salmon fillets dry.… Read More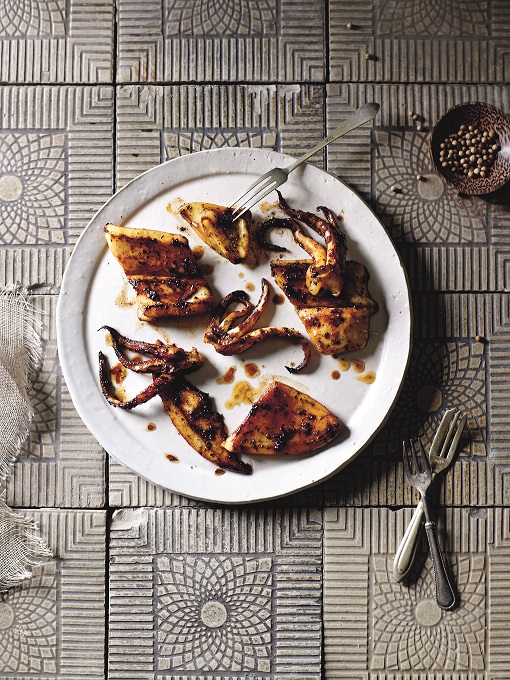 This is one of the many barbecued dishes that are served by the sea at Jimbaran. In what
was formally a rustic coastal eating place dotted with simple grass huts, there are now
hundreds of bamboo tables and chairs perched on the sand, and tonnes of seafood being
served, from prawns to lobster and snapper to squid, for eager tourists. The secret at
Jimbaran is cooking the seafood over coconut husks for a delectable smokiness, and the
moist heat of the husks creates tender meat with glazed and burnished skin without
dryness. If you are flying into Denpasar at night, the smoke from the barbecues at
Jimbaran bay looks like an enormous bushfire.… Read More

Posted on January 23rd, by janet in
Recipes
.
Comments Off on RECIPE OF THE WEEK: Gado Gado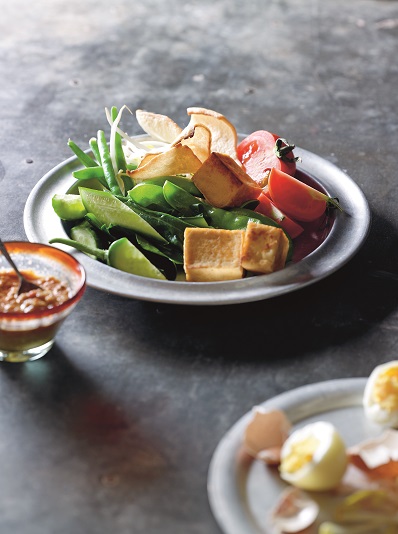 Another Indonesian dish that varies from island to island. In Bali, Gado-Gado or jukut mesantok, as it is known in Bali, consist of spinach, bean sprouts, snack beans, tofu and rice cake. It is served in small warungs or sold by street vendors, who mix the sauce to order using a large mortar and pestle. It is then tossed with the vegetables and served in a banana leaf. In Java, Gado-Gado is served with a wider variety of vegetables, often including potato and cabbage. Therefore, the choice is yours.
Allow 200 grams of vegetables per person…..
Bean sprouts, spinach, beans, potato, broccoli, cauliflower
Cabbage, carrot, snow peas, cucumber, tomato wedges
Fried tempe or tofu, hard-boiled egg
Peanut sauce
Quartered or finely sliced krupuk udang (prawn crackers) or krupuk emping
Prepare the vegetables by boiling, steaming, and so forth.Slice  into bite-sized pieces or any manner you prefer and arrange on a platter, either in layers or mixed.… Read More
---