16 Apr

Pecel Madiun in Surabaya

Congratulations Surabaya. I have just returned from a long weekend from this bustling centre of commerce in East Java. I am impressed with the clean streets and rivers and the overall tidiness, thanks to Tri Rismaharini, Surabaya's first female mayor, who is running Indonesia's second largest city like a well-managed household. Well done!

But let's start talking about food. One thing Surabaya is busy doing, is eating. And why not, when the food is fabulous.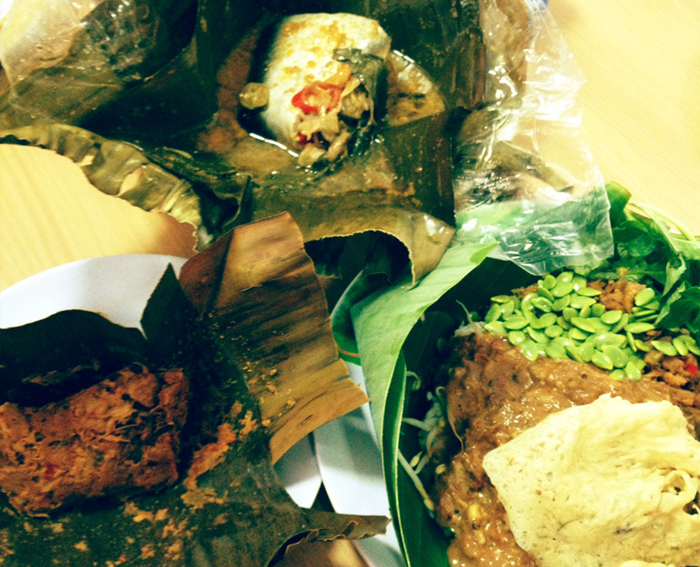 East Java is in love with peanuts and krupuk. Add bean sprouts to that. Pecel Madiun marries the two, or three that is, to create culinary romance: the krupuk in this case is rempeyek, a large wisp of a cracker studded with peanuts. Pecel is the name of the peanut sauce and Madiun is the region. Sprouts, slivered cabbage, spinach, snake beans, tofu and tempe are topped with a generous serve of peanut sauce in a banana leaf. Hard to beat that kind of presentation!
The garnish is kemangi, a local basil that tastes like a delicate mix of lemongrass, mint and lemon balm, and krupuk. To western eyes, it's gado-gado, but in Indonesia, there are many dishes serving vegetables mixed with peanut sauce. I order Pecel Madiun with petai cina, small bright green beans like miniature pete, that add an intriguing flavour and extra chew to this nutty salad. The peanut sauce is robust, slightly chunky and bouncing with the scent of lime leaves.
Peanut sauce
This is my fool-proof peanut sauce recipe that it is exceedingly simple to make and can be stored in the fridge for a few days. For a successful sauce, the trick is not to reheat it, as it is inclined to curdle. Make sure the skin is left on the peanuts for extra flavour and texture.
150 gms. raw unsalted peanuts or Nobby's salted beer nuts, skin on
1 tablespoon kecap manis (optional)
4 cloves garlic, chopped
1 large red chilli, seeds removed
2 small chillies, chopped
1/4-1/2 warm water
sea salt to taste                         
3 lime leaves, finely shredded
1-2 cups oil for frying
1 tablespoon palm sugar
2-3 tablespoons fried shallots                      
Heat the oil in a wok over a medium flame.
Fry the peanuts in the oil, a handful at a time until golden brown.  Remember that they keep cooking after they've been taken from the wok.
Remove the peanuts with a slotted spoon. Sprinkle with sea salt to keep dry.
In a food processor, blend all the ingredients, adding the fried peanuts and liquids last.  If you're using a mortar and pestle, grind the peanuts last or separately.
Check seasonings, balancing sweet, sour, salty and spicy. Add kecap manis for a deeper, brown colour. Serve: Garnish with fried shallots.