Category: Recipes

I'm at the home of Pak Rimpin, the man who makes the finest smoked duck in Ubud. Pak Rimpin lives in an area known as the Jungut, just a stone's throw from Casa Luna, tucked away in the back streets. He has been making smoked duck for as long as I can remember and when we have a ceremony we always order from him.

Posted on January 30th, by janet in
Food
,
Recipes
,
Written Articles
.
Comments Off on RECIPE OF THE WEEK | Fried noodles with caramelised cabbage (Mie goreng khol)
This is a super-simple dish that we often eat at home. It's a snack food for us, but you can jazz it up and serve it topped with Pork belly and Balinese spices or throw in some additional ingredients such as tofu, scallops, roast duck or prawns. Personally, I like it simple, and when I feel like a bowl of soft noodles with the subtle bite of chilli, this is what I make. You can use egg noodles or even 'mie instan' as there's no need to be snobbish about this one. The intention is that you can sit back, relax and indulge. Finish the noodles with a drop of sesame oil, sprinkle with your favourite chopped herbs, or add a teaspoon or two of Fried Sambal for extra kick.

Posted on January 25th, by janet in
Food
,
Recipes
,
Written Articles
.
Comments Off on RECIPE OF THE WEEK | Javanese tofu and scallop curry (Opor tahu dan scallops)
Opor, a dish from central Java, is usually described as a white curry. However this description does not do justice to dishes' dreamy and alluring flavours of galangal, ginger and lemongrass combined with mild green chillies. For me, opor is the quintessential Javanese dish: subtle, creamy and aromatic. In this modern interpretation I have selected scallops to partner tofu, to create what I think it a supremely elegant curry. It's the kind of meal to serve your girlfriends for lunch, on a day when you have plenty of time and loads to chat and giggle about – alongside free-flowing bubbly of course!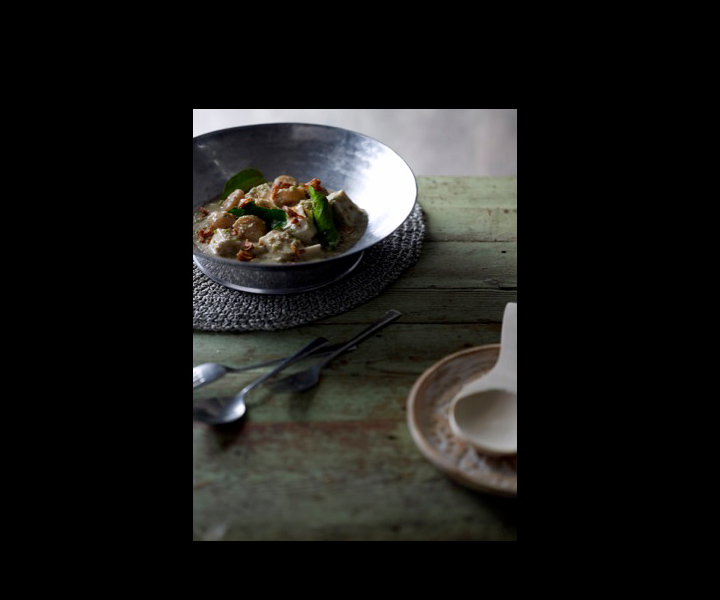 8 scallops
1 teaspoon tamarind pulp soaked in 2 tablespoons of water, strained 3 tablespoons oil
100 g tofu, cut into a size to match the scallops
2 lemongrass stalks, bruised and tied in knots
3 salam leaves
3 kaffir lime leaves
250 ml coconut milk
2 tablespoons fried shallots
2 teaspoons grated palm sugar
sea salt
SPICE PASTE
3 red shallots, roughly chopped
4 garlic cloves
2 long green chillies, roughly chopped 2 small green chillies, roughly chopped 3 tablespoons chopped galangal
1 tablespoon chopped ginger
5 candlenuts
3 teaspoons coriander seeds
1/2 teaspoon white pepper
1/2 teaspoon cumin seeds
1/2 teaspoon shrimp paste
Mix the scallops with the tamarind water and set aside.


This is one of the many barbecued dishes that are served by the sea at Jimbaran. In what was formally a rustic coastal eating place dotted with simple grass huts, there are now hundreds of bamboo tables and chairs perched on the sand, and tonnes of seafood being served, from prawns to lobster and snapper to squid, for eager tourists. The secret at Jimbaran is cooking the seafood over coconut husks for a delectable smokiness, and the moist heat of the husks creates tender meat with glazed and burnished skin without dryness. If you are flying into Denpasar at night, the smoke from the barbecues at Jimbaran bay looks like an enormous bushfire.

Posted on October 24th, by janet in
Food
,
Recipes
,
Written Articles
.
Comments Off on RECIPE OF THE WEEK | Balinese Beef Rendang – Rendang Sapi
In keeping with Hindu dietary restrictions, beef is seldom served in a Balinese household. That doesn't mean it's forbidden though! Meat in Bali, is always cooked with a pile of fresh spices that tenderize, preserve, uplift and nurture. It's also about aiding digestion and a dash of tamarind, a few sprightly gingers and lemongrass will always help that process.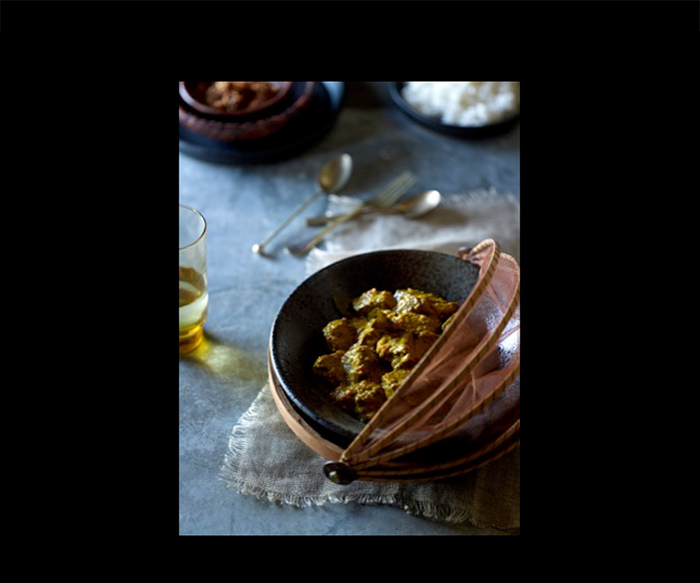 This recipe is a Balinese version of rendang and spotlights the acclaimed trio of galangal, turmeric and ginger, that constantly feature in Indonesian cooking. It has all the virtues of a slow-cooked stew; comforting, full of flavour, tender and deeply aromatic. It is also a joy to cook as the aroma that floats around the house, while the curry is simmering in the pot, is glorious.

Posted on October 15th, by janet in
Food
,
Recipes
,
Written Articles
.
Comments Off on RECIPE OF THE WEEK | Black-rice pudding – Bubur injin
Black rice pudding is one of Bali's most famous desserts that, once upon a time, used to feature on the breakfast menu of most simple guesthouses around the island. Traditionally served as an in-between snack, it's glossy blackness and almost chocolatey flavour makes it both intriguing and alluring. Mornings or afternoons, you can usually find black rice pudding on sale at simple food stalls at local markets, along with other syrupy porridge-like treats. These comforting dishes are the domain of mothers and grandmas who are the experts of all that is "sugar and spice and everything nice."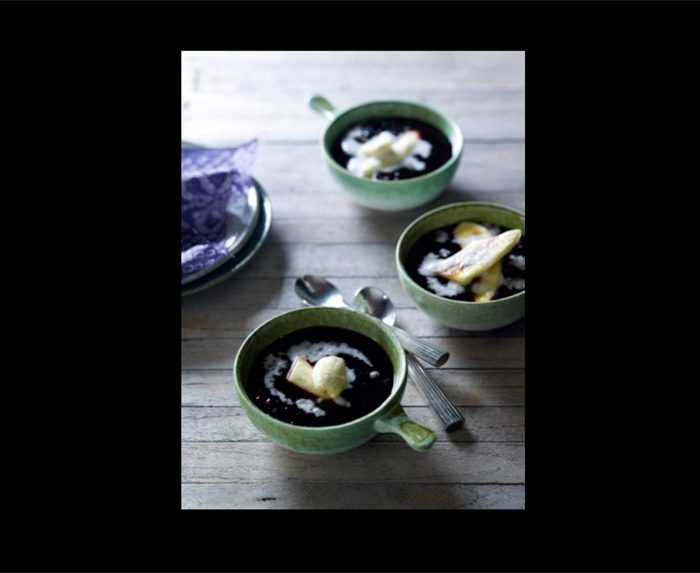 My sister-in-law, Karsi, taught me how to make Black rice pudding and walked me through the subtleties of achieving the perfect flavour and consistency.

One of Indonesia's national treasures, and also found in Malaysia and Singapore, rujak, is the ubiquitous afternoon snack. When the sun starts its descent and the heat of the day starts to dull the brain, just about every Balinese I know tucks into this action-packed fruit salad with a savoury dressing that is guaranteed to slap you out of a tropical slump.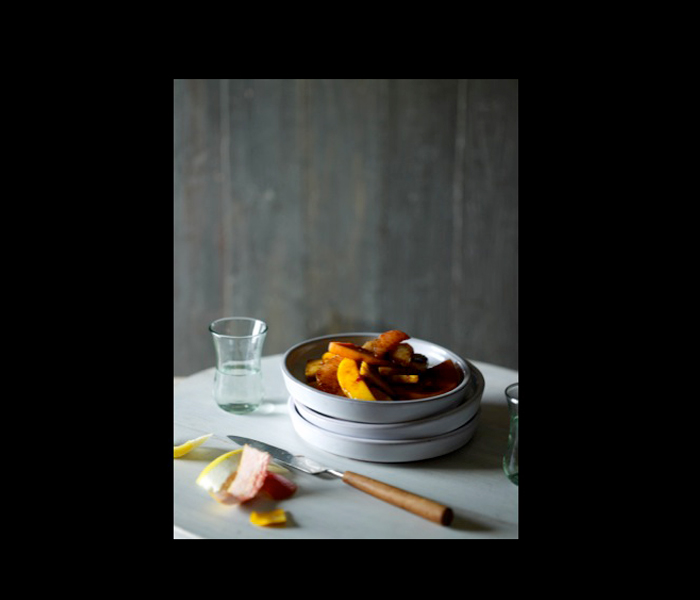 It combines the energizing four pillars of Asian cooking: sweet, sour, spicy and salty, and it clears the mind, refreshes the palette, speeds up the metabolism and offers a generous dose of vitamin C, iron, folic acid and calcium. Pregnant women crave its strong flavours, and rightly so.
As soon as my children are home from school, they feast on rujak mixed with any amount of seasonal fruit.

Posted on October 3rd, by janet in
Food
,
Recipes
,
Written Articles
.
Comments Off on RECIPE OF THE WEEK | Green fried rice – Nasi goreng hijau
Perhaps Indonesia's national dish, nasi goreng is enjoying a curious renaissance, appearing in all shapes and sizes across the archipelago in oh-so creative combinations of meats, herbs and garnishes. If you wander through the food courts of Indonesia's glam shopping malls, you will see modern reinterpretations of it wherever you look. I recently found this particularly delicious nasi goreng on my travels in Jakarta. However, in the spirit of nasi goreng, feel free to add what you like (providing it tastes good!) as nasi goreng is all about experimentation.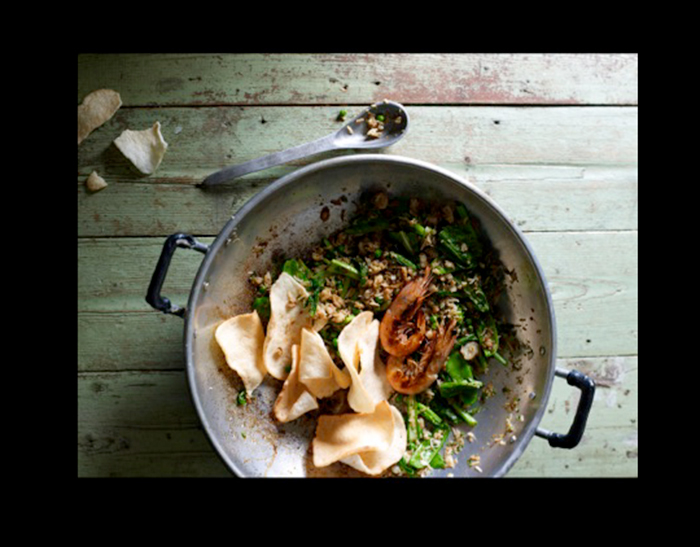 SPICE PASTE
2 red shallots or 1⁄2 onion, finely chopped 6 garlic cloves, finely chopped
2 large green chilli, sliced
2 small green chillies, sliced (optional) 1/2 teaspoon shrimp paste
2–3 tablespoons vegetable oil
3 tablespoons finely chopped leek
120 g shelled raw prawns, finely chopped
3 kaffir lime leaves, rolled into a bundle and finely shredded 11/2 cups chopped choy sum or bok choy
1/4 cup snow peas, blanched
1/4 cup peas
1 teaspoon kecap manis
1/2 teaspoon fish sauce
3 teaspoons oyster sauce
1 cup cooked rice
2 tablespoons chopped lemon basil
sea salt and freshly ground black pepper
fried shallots to serve
1 grilled extra-large prawn to serve
large krupuk to serve
Put the spice paste ingredients in a mortar and pound to a smooth paste, or blitz in a blender.

If you only make one dish from this cookbook, let this be the one! Tomato sambal can be used to accompany a thousand dishes from Indonesia to the Mediterranean. Try it with eggs in any shape or size, grilled fat sausages, fish or any meat, roasted eggplant, tofu or tempeh – not to mention stirred into risotto or homemade mayonnaise or basted over barbecued prawns. It keeps for weeks in the refrigerator and will turn the dullest meal into a masterpiece.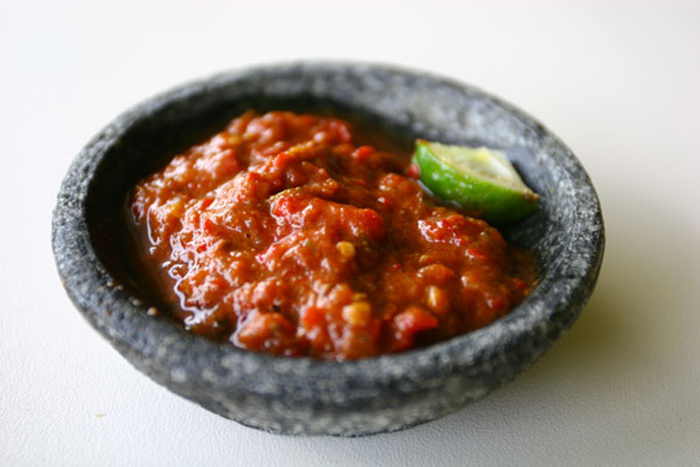 ---